Pakistan mulls building trade, energy corridor for China
By Qin Jize (China Daily)
Updated: 2006-02-22 05:47
Pakistan wants to act as a transit facility giving China access to Central Asian markets and energy sources, said visiting President Pervez Musharraf.
"We are interested in setting up a trade and energy corridor for China," he told China Daily in an exclusive interview.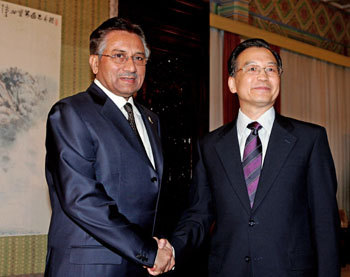 Chinese Premier Wen Jiabao (R) shakes hands with Pakistani President Pervez Musharraf in Beijing February 21, 2006. [Reuters]



He was referring to Gwadar port on the Arabian Sea coast in the Pakistani province of Balochistan through which crude oil imports from Iran and Africa can be transported to Northwest China's Xinjiang Uygur Autonomous Region by land.

Musharraf said the route on which a feasibility study is being conducted is a shortcut compared with the one via the Straits of Malacca.

The port is strategically located as it is quite near the Strait of Hormuz, through which 40 per cent of the world's oil passes, he noted.

China contributed about US$200 million for the construction of the port's first phase, which was completed last April when Premier Wen Jiabao visited Pakistan.

It is reported that China will also finance the second phase, which will have nine more berths, an approach channel and storage terminals.

Musharraf said he is looking forward to the result of the feasibility study on transporting crude oil via mountainous regions in Pakistan; and suggested that building a railway was an option.

"We should look at the issue with strategic vision," he said.

Although the proposed pipeline is not a project that can be launched soon, it could work well in the long run, said Sun Shihai, a researcher with the Chinese Academy of Social Sciences.

"It will help maintain peace and stability in the region when the commercial interests of China, Pakistan and a third country are involved," he said.

Musharraf, who arrived in Beijing on Sunday for a five-day visit, is also seeking Chinese help in developing nuclear energy.

China helped its traditional friend set up the Chashma Nuclear Power Plant Phase I; and building on the 300-megawatt Phase II started recently.

Pakistan, whose nuclear-power capacity is 437 megawatts, plans to increase the figure to 8,500 megawatts by 2030.

On bilateral relations, Musharraf said his latest visit to China has brought him closer to the Chinese leadership.

Talks with his Chinese counterpart Hu Jintao were extended by half an hour on Monday, following which 13 bilateral agreements were signed on military, trade and agricultural co-operation.

Apart from Hu, Musharraf also held talks with top legislator Wu Bangguo and Premier Wen Jiabao.

During his tour to Southwest China's Sichuan Province, Musharraf will visit some national defence industries apart from seeing giant pandas. The two countries are jointly building JF-17 Thunder fighter jets.

On the launch of his Chinese-language biography in Beijing on Monday, Musharraf said he felt "greatly honoured and flattered to have a Chinese author write about my life."