Cancer patient offered none but cold shoulders on bus
By Echo Shan (chinadaily.com.cn)
Updated: 2006-02-21 16:45
Zhu Xianglin, a 70-year-old cancer patient, still feels a chill over his experience during a bus ride to hospital for a regular check-up on February 20. Though pale and feeble, for over 20 minutes Zhu was offered no seat even after pleading several times, with cancer diagnosis in hand.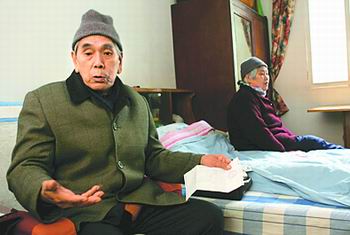 Zhu Xianglin, a 70-year-old cancer patient reacts at his miserable experience during his bus trip to hospital Monday. [East Morning Post]


It was bleak outside on Shanghai's streets that day when Zhu boarded the bus. To his surprise, in such a developed and financial hub as Shanghai, it would get even colder for him.

Squeezed onto the ever-crowded route 820, Zhu, notably fragile and out of breath, rested himself on the doorsteps by the bus entrance as every seat was taken and nobody gave an offer.

"The word 'coldness' comes to my mind when recalling those marble-like faces on the bus," said Zhu, with a deep sigh.

With 1/3 of his upper right lung cut away some eight months ago, Zhu narrowly survived the lung cancer that left him with bad health and a smaller purse.

Upon appealing four times of the conductor Hu Xiaodong for a seat, Zhu still got nothing but indifferent faces and distant eyes.

Even after showing his diagnosis paper, which had registered in black and white the lung-cutting operation that resulted in 38 stitches on his chest, the heartbroken Zhu, bearing both physical suffering and mental anguish, still got cold shoulders of indifference on the bus, from his compatriots in the city.

Hua Fengdi, Zhu's wife sick with severe rheumatism, sobbed as she later learned what had happened to her poor hubby on the bus. Her repeated prayers for a seat for Zhou before he embarked on his bus trip were all in vain, it seemed.

However, the world does have its fair cheer of good people, for after nearly 20 minutes and over a two-kilometer ride, a passenger in his 50s, also on his feet, roared to a cozily seated and healthy middle school boy, ordering him to give the seat to Zhu. The frightened the boy then rose to his feet silently.

Finally, Zhu was seated. Three minutes later, after getting his breath back, a low-voiced "thanks" was squeezed through Zhu's mouth.

From a bus seat scenario, a picture of current China's morality situation emerges, while in a dim and unpolished fashion.

A recent public survey conducted in Guangdong Province on social evils rank "people's morality construction" atop the list.

In a ethic-bound nation of China, the statue of Leifeng, a late warn-hearted young PLA soldier always ready to help, was long erected in the 1990s to boost social conscience.

While it seems people are forgettable, all are left behind in today's money-driven society as the catchword "to get rich is glorious" is repeatedly chanted.

Who come to care about an old cancer patient and bother to offer him a seat on bus?

Back in 2004, a Shenzhen bus company campaigned on a "seat-offering to the needy" activity, while "powered" by benefit impulse.

Those who give a seat offer would get in returen a "Loving Heart Card," which equals a one-yuan bus ticket.