Musharraf: We'll bring killers of three Chinese to justice
(China Daily/agencies)
Updated: 2006-02-21 06:02
Visiting Pakistani President Pervez Musharraf yesterday strongly condemned the killing of three Chinese engineers by tribal militants in his country, and promised "harshest punishment" to the perpetrators.
"We regret this incident and we are resolved to bring all the culprits to justice," Musharraf told his Chinese counterpart Hu Jintao at the start of their talks in Beijing.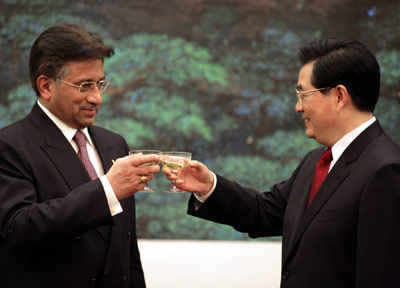 President Hu Jintao (R) and visiting Pakistani President Pervez Musharraf during a signing ceremony at the Great Hall of the People in Beijing Monday February 20, 2006. [newsphoto]
He assured his Chinese host that Pakistan would take further measures to guarantee the safety of Chinese nationals in the country.
Musharraf started his five-day state visit to China on Sunday at the invitation of Hu, with business relations top on his agenda. It is his third state visit to China.
Hu called Musharraf an "old friend of the Chinese people" and praised him for having contributed to the development of bilateral relations.
"We believe the Pakistani Government will punish the criminals, and take practical measures to protect Chinese nationals and institutions there," Hu said.
Militants in southwest Pakistan's Baluchistan province have claimed responsibility for the killing of the Chinese engineers, who were working at a cement factory, and their Pakistani driver. Police have detained 50 suspects.
Bilateral agreements covering trade, national defence, energy, agriculture, health and education were signed after the two leaders held talks for one-and-half hours.
China is ready to work with Pakistan to intensify high-level contacts and bilateral co-operation on the basis of mutual benefit so as to take the "strategic partnership" to a new level, Hu said.
"We will also strengthen collaboration in the security field and work together to fight terrorists, separatists and extremists," he said.
"China-Pakistan relations have stood the test of time and international ups-and-downs since the two countries forged diplomatic ties 55 years ago," Hu said.