Russia cautious as Iran talks get underway
(AP)
Updated: 2006-02-20 21:11
Russia expressed limited hope Monday as Russian and Iranian officials started talks in Moscow on an offer to enrich uranium for Iran, seen as a final opportunity for the Islamic regime to avoid the threat of international sanctions over Western concerns it is developing nuclear weapons.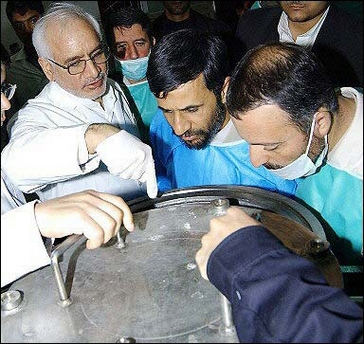 Iranian President Mahmoud Ahmadinejad (C) visit the Natanz uranium enrichment facilities,south of Tehran, on February 15. Iranian officials arrived in Moscow for talks on a Russian-authored plan for resolving the Iranian nuclear crisis, but the chief Iranian delegate rejected any link with Western demands for Tehran to halt enrichment work. [AFP]
The Russian offer, backed by the United States and Europe, represents a chance for Iran to address these concerns before a March 6 meeting of the U.N. nuclear watchdog, the International Atomic Energy Agency, which could start a process leading to punishment before the U.N. Security Council.
"Honestly speaking, we have modest expectations, but we will make every effort to avoid an escalation of the situation and the use of force," Russian Foreign Minister Sergey Lavrov told a government meeting chaired by President Vladimir Putin in televised comments shortly before the talks with Iran.
The negotiations led by Ali Hosseinitash, deputy secretary of Iran's Supreme National Security Council, and his Russian counterpart Valentin Sobolev, began at 2 p.m. (1100 GMT), said the press service of Russia's Security Council.
The Iranians have blown hot and cold over Moscow's initiative, under which Iran's enrichment activities would take place on Russian soil to ensure no uranium is diverted for nuclear weapons. Enrichment is a process that can produce either fuel for a nuclear reactor or material for a warhead.
Iran maintains its nuclear program is purely for civilian energy needs, but Western nations accuse it of pursuing a secret atomic weapons drive that would upset the regional balance of power in the Middle East. The United States has said it is committed to addressing the Iran standoff diplomatically, but that it reserves the right to use any option, including force.
The Russian foreign minister said Iran could conduct all nuclear activities on its own soil once the IAEA had lifted all concerns about the Iranian nuclear program.
Lavrov said last week that the Russian proposal is conditional on Iran giving up all enrichment activity, including small-scale efforts it started last week. The European Union and the United States also insist that Tehran re-impose a freeze on all enrichment.
But the top Iranian negotiator, Hosseinitash, took a tough stance ahead of the meeting.
He rejected any link between the Russian plan and demands for Iran to restore a freeze on uranium enrichment, news agencies reported.
"The negotiations with Russia do not foresee any preconditions," Hosseinitash said before his departure from Tehran, according to ITAR-Tass.
He added that there was "no link between the moratorium on uranium enrichment and talks on the Russian plan" and stressed that Iran did not intend to renounce its right to conduct a full nuclear cycle.