China, Pakistan sign sweeping agreements
(AP)
Updated: 2006-02-20 20:49
Pakistan's visiting president apologized Monday for the killing of three Chinese engineers by tribal militants in Pakistan, saying the attacks brought "shame" on his country and promising the harshest punishment.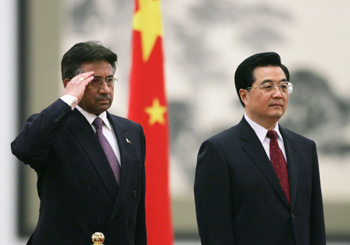 Chinese President Hu Jintao (R) and Pakistan's President Pervez Musharraf attend a welcome ceremony inside the Great Hall of the People in Beijing, February 20, 2006. Musharraf on Monday expressed his nation's regret over the murder of three Chinese engineers in Pakistan and said his country was committed to strong relations with Beijing. [Reuters]
The two countries also signed a series of agreements on topics ranging from trade and defense to cooperation in earthquake research and family planning.
President Gen. Pervez Musharraf, who arrived in China on Sunday for a five-day visit aimed at increasing ties between the longtime allies, expressed Pakistan's "regret and condolences" over last week's drive-by shootings.
"It is a shame of the country," he said.
"The man in the street (in Pakistan) loves the Chinese," Musharraf told China's parliament chief Wu Bangguo during the public portion of a meeting.
He earlier promised the "strongest and harshest punishment" for the attackers, the Xinhua News Agency said.
Beijing has demanded punishment for the attackers, but said the killings won't affect the two countries' warm relations.
On Monday evening, Musharraf met his Chinese counterpart, Hu Jintao, and other senior officials at Beijing's Great Hall of the People.
Both leaders reviewed Chinese troops before high-level delegations from the two sides signed 13 bilateral agreements aimed at further strengthening ties.
China is the biggest weapons supplier to Pakistan, a conservative Muslim country. Western nations have accused Beijing of providing Islamabad with advanced ballistic missiles.
Pakistan, which has developed both medium- and long-range missiles capable of carrying nuclear warheads, insists its missile program is homegrown.
Pakistan is also reportedly looking for China's help in building two nuclear power plants, and the two countries are negotiating the groundwork for a free trade agreement.
The visit is Musharraf's third to China.
Militants in southwestern Pakistan's Baluchistan province have claimed responsibility for killing the three engineers, who were working at a cement factory, and their Pakistani driver.
Pakistan has detained 50 suspects.
Scores of attacks in Pakistan in recent years have been blamed on militants demanding more royalties for resources from their territory, and opposing an increased military presence there.