Musharraf arrives in Beijing for state visit
(Xinhua)
Updated: 2006-02-19 21:01
Pakistani President Pervez Musharraf arrived here Sunday, starting a five-day state visit to China.
Musharraf came to China at the invitation of Chinese President Hu Jintao.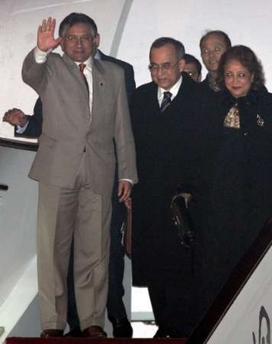 Pakistan's President Pervez Musharraf (L) and his wife Begum Sehba Musharraf (R) arrive at Beijing International Airport February 19, 2006. Musharraf arrived in Beijing on Sunday for a five-day state visit. [Reuters]


His current visit is expected to unveil a series of events celebrating the 55th anniversary of the establishment of China-Pakistan diplomatic relations.

During his stay in Beijing, Musharraf will meet his Chinese counterpart Hu Jintao and other senior Chinese leaders.

The two sides will discuss how to further promote the friendly and mutually beneficial cooperation, exchange views on international and regional issues of common concern, and sign some cooperative agreements.

The Pakistani president will attend a ceremony to mark the publication of his biography in the Chinese capital.

He will also visit southwest China's Sichuan Province, the hometown of giant pandas, before his departure on February 23,

China and Pakistan are always considered as close neighbors enjoying an all-weather friendship. But the recent gun attack in southern Pakistan that led to the death of three Chinese engineers has shocked both countries.

In an interview with Chinese correspondents in Islamabad on the eve of his China tour, Musharraf said Pakistan's friendship with China is very strong and will not be affected by the incident.

He told the Chinese correspondents that those who carried out the evil act do not want Pakistan to prosper and want to create a misunderstanding between Pakistan and China.

The Pakistani government is determined to give the attackers the strongest and harshest punishment and their evil objectives will not be achieved, Musharraf stressed in the interview.