Domain names of pandas to Taiwan bag much
(Xinhua)
Updated: 2006-02-19 14:00
Sixteen domain names related to the two pandas donated to Taiwan have all been registered with marked price for all the 16 hitting as high as 3.33 million yuan (416,000 US dollars), the Beijing Morning Post reported Sunday.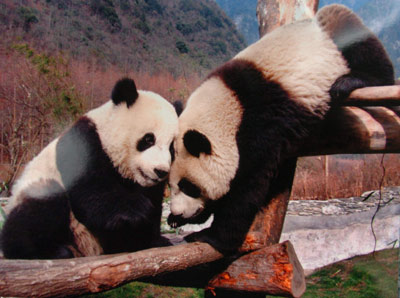 Two pandas play at the China Giant Panda Research Centre in Wolong, Southwest China's Sichuan Province in this undated photo. The pair has been chosen as a goodwill gift to the Taiwan compatriots, the State Forestry Administration said Friday. [Xinhua]


The 16 domain names both in Chinese and English for Tuan Tuan and Yuan Yuan have all been registered by one person, an IT worker surnamed Peng in Shanghai.

"I'm engaged in IT industry, I'm quite confident in prospects of domain names of 'tuantuanyuanyuan.com.', and 'tuantuanyuanyuan.com.cn'," Peng was quoted by the paper as saying.

Peng spent only about 2,000 yuan to register all the 16 domain names and wish to sell them each at price ranging from 100,000 yuan to 880,000 yuan, the paper said.

The Chinese mainland announced the decision to donate pandas to Taiwan on May 3, 2005. The two pandas were chosen from 11 candidates last January. The names "Tuan Tuan" and "Yuan Yuan", which mean reunion, were chosen as names for the two donated pandas during the Spring Festival.

"From January 12, when the list of possible names for the two pandas were publicized, I think 'Tuan Tuan' and 'Yuan Yuan' will be the winners," Peng said.

"Then I started to register all related domain names of 'Tuan Tuan' and 'Yuan Yuan', and finished registration for the 16 names before final result was unveiled," he said.

For his best four domain names including tuantuanyuanyuan.com and tuantuanyuanyuan.com.cn, Peng said "many companies have contacted with me and all offered price exceeds 200,000 yuan."

He also said some auctioneer in Shanghai proposed to auction these domain names for him. "If we sold my domain names through auction, it will be the first time to auction Internet domain names in China."

Early report from the People's Daily said nearly all Internet domains named after Chinese festivals have been registered,

Especially since the Dragon Boat Festival (Duanwu Festival), a traditional Chinese festival, was used by a company from the Republic of Korea as a domain name (Duanwu.cn), the People's Daily said.

"The enthusiasm about registration of domain names is triggered by the realization of the importance of the protection of traditional Chinese culture on the Internet," experts were quoted by the paper as saying.