New Palestinian parliament sworn in
(AP)
Updated: 2006-02-19 11:34
A new parliament dominated by Hamas was sworn in Saturday, with Palestinian leader Mahmoud Abbas asking the Islamic militant group to form the next government but imploring them to honor existing peace deals and take the path of negotiations.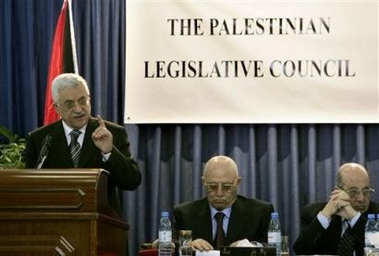 Palestinian Authority President Mahmoud Abbas, also known as Abu Mazen, speaks during the swearing-in session of the incoming Palestinian Parliament in the West Bank town of Ramallah Saturday Feb. 18, 2006. Abbas demanded Saturday that a future Hamas government honor all agreements signed by the Palestinian Authority. At right the head of the Palestinian National Council Salim Za'anoun and, center, outgoing Palestinian Prime Minister Ahmed Qureia. [AP]

Hamas leaders rejected Abbas' calls, but signaled a willingness to compromise.

In the battle for Palestinians' political future, time is short and stakes are high: Israel is on the verge of imposing sanctions that would seal off the Gaza Strip.

Hooked up via video conferencing because Israel wouldn't let them travel between the West Bank and Gaza, the new Palestinian lawmakers in the two territories took their oath of office collectively, reciting a prayer with upturned palms.

At the back of a meeting hall in the West Bank city of Ramallah, Hamas lawmakers ¡ª the men sporting traditional Muslim beards and the women in headscarves and long robes ¡ª held up portraits of fellow legislators sitting in Israeli jails.

Abbas, whose Fatah Party lost Jan. 25 elections, urged the new legislature not to endanger diplomatic gains worked out over years of painstaking talks with Israel and the international community. Hamas controls 74 of parliament's 132 seats.

"We, as a presidency and a government, will continue our commitment to the negotiation process as the sole political, pragmatic and strategic choice through which we reap the fruit of our struggle and sacrifices over the long decades," Abbas said.

He reminded the new legislators "of the need to respect all signed agreements," including the so-called Oslo Accords of the 1990s that set up the Palestinian Authority.

Hamas leaders have said they would consider agreeing to a long-term truce if Israel withdrew from the West Bank and east Jerusalem, which it captured in the 1967 Mideast War.

The White House took a wait-and-see approach to the new Hamas-dominated parliament.

"Our position on Hamas has been quite clear on what they need to do. They must disarm, renounce violence and recognize Israel's right to exist," said National Security Council spokesman Frederick Jones. "We'll still continue to watch closely and wait and see. We'll see what approach they take as they govern."

Israeli government spokesman Raanan Gissin said Israel will view the Palestinian Authority as a "hostile entity" unless Hamas accepts those conditions.

"These conditions are nonnegotiable. It is not whether there will be a short-term cease-fire or a long-term cease-fire. It is not whether they want to eliminate us now or if they will wait 20 years to do it," Gissin said. "A democratic victory does not provide legitimacy or a quick dry-cleaning service to a terrorist organization."

Meanwhile, two Palestinians stabbed and critically wounded a 45-year-old Israeli man late Saturday in the West Bank settlement of Maaleh Adumim, said police spokesman Shlomi Saguy. The man was found bleeding on the street and told police, just before he lost consciousness, that he was stabbed by a pair of Palestinians, who then fled.

Abbas' words were likely to set up a political showdown with Hamas, which has up to five weeks to form a government once it names a prime minister. It has not formally done so although officials have said they would nominate Gaza leader Ismail Haniyeh.

If that government refuses to heed Abbas' demand to recognize past peace accords and accept negotiations, then Abbas, as president of the Palestinian Authority and head of the Palestine Liberation Organization, has the right to dismiss it.

That in turn would almost certainly trigger a parliamentary crisis, or possibly new elections, because any alternative government would need the support of the Hamas-led parliament.

In one of its first acts, parliament elected Hamas lawmaker Abdel Aziz Duaik its new speaker. The outgoing speaker, Rauhi Fattouh of Fatah, handed over the gavel, to cheers and applause.

The backdrop to all this is an Israeli Cabinet decision expected Sunday on whether to impose sanctions that would sever virtually all contact between Gaza and Israel, keeping out Palestinian goods and workers, and making it impossible to travel between Gaza and the West Bank. In addition, some $50 million in monthly tax transfers to the Palestinian Authority would be halted.

The proposed sanctions do not include humanitarian shipments into Gaza, but they are likely to devastate the already frail Gazan economy.

The world will be watching to see if Hamas will recognize Israel and renounce violence. If it doesn't, the Palestinians risk losing not just Israeli dispensations but also hundreds of millions of dollars from the U.S. and Europe ¡ª the lifeline of the Palestinian economy.

For now, Hamas remains committed to Israel's destruction, and a leading Hamas legislator, Mushir al-Masri, said after Abbas' speech that negotiations with Israel are "not on our agenda."

Nonetheless, after Saturday's session, both Abbas and Haniyeh said they would try to resolve their deep differences through dialogue.

"Why assume that there will be crisis? Let us resort to dialogue. Everything comes through dialogue," Abbas told reporters after leaving parliament.

Haniyeh said "dialogue and understanding" should be used "to preserve the national unity of the Palestinian people and promote the higher interests of our people."

Abbas' speech seemed mostly directed at Hamas, reviewing years of delicate negotiations he said earned the Palestinians indispensable world recognition and speaking of the need to "open up to the world" and to resist "chauvinism."

Fatah lawmakers applauded twice during his speech, when he mentioned the role of the Palestinian woman, who, he said, "was an equal to men in martyrdom and imprisonment, and she must be an equal to him in all rights."

And in what appeared to be a reference to Hamas' suicide bombing campaign that killed hundreds of Israelis, Abbas said, "Let us educate our children the culture of life, not the culture of death."

Abbas called for the PLO, which up to now has been responsible for all negotiations with Israel, to be strengthened ¡ª a possible bypass of a Hamas-led government.

He also railed against Israel for what he called its "racist separation wall" in the West Bank and its "closures, checkpoints, destruction of infrastructure, uprooting of trees and many other measures that have turned Palestinians' life into hell..."

At the same time, he said he wants to restart peace talks quickly, based on the U.S.-backed "road map" plan which envisions a Palestinian state alongside Israel. "Let us together make peace today, rather than tomorrow," Abbas said. "Let us live in two neighboring states."

He called the threat of aid cuts and other sanctions "blackmail."

"The Palestinian people should not be punished for its democratic choice that was expressed through the ballot box," he said.