Deep mud slows Philippine search effort
(AP)
Updated: 2006-02-19 09:02
Hoping for a miracle, rescue workers in the Philippines searched for survivors Saturday in an elementary school swamped by a massive landslide that buried this town and killed some 1,800 people.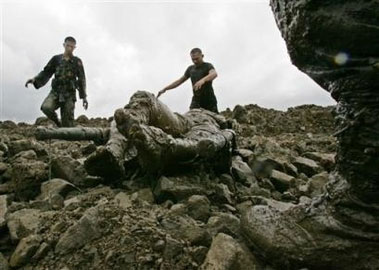 Filipino soldiers pause as they carry a landslide victim on a stretcher after being dug out from the mud in continuing search and rescue efforts Saturday, Feb. 18, 2006 following a landslide that buried the whole village of Guinsaugon, St. Bernard town in southern Leyte province in central Philippines. Rescuers pulled out five more bodies Saturday bringing the death toll to 20 and injuries to 30 others. Officials estimate those who perished in the landslide to be 1,800. [AP]
No more survivors were found, however, and reports that students and teachers sent cell phone text messages from inside went unconfirmed, leaving the search effort dispirited and empty-handed.
Fearing more landslides in the area, 11 villages were evacuated as U.S. military ships steamed to the scene.
As rain continued to fall, rescue workers were warned to tread carefully or risk becoming casualties themselves as the uneasy mud settled, a day after the slope of a mountain collapsed Friday.
The landslide, which followed two weeks of heavy rains, was believed to have killed nearly every man, woman and child in the farming village of Guinsaugon, which was covered with mud up to 30 feet deep.
The situation was so delicate that a no-fly zone was established over the area out of concern that blasts of air from the helicopters' rotors could send the mud oozing again in Guinsaugon, about 400 miles southeast of the capital, Manila.
Medical supplies and excavation equipment were reaching the area on Leyte island, and U.S. military ships were expected at daybreak Sunday with 1,000 Marines to add to the aid effort. But with no survivors found Saturday, it appeared the operation would be recovery instead of relief.
Only 57 people were plucked from the mud Friday from Guinsaugon's population of 1,857. At least 56 bodies were recovered.
Officials suspended the search operation after dark, with the footing too dangerous and no floodlights available to illuminate the massive mud field, which was surrounded by a shallow stream.
President Gloria Macapagal Arroyo mentioned reports about cell phone messages sent by survivors in the swamped school during a televised staff meeting on the disaster. The reports gave impetus to the military to dispatch 60 soldiers to the scene.
But as day turned to night, no signs of life were found, and officials admitted that they had been unable to confirm the existence of any genuine text messages from survivors.
Staff Sgt. Bienvenido Plaza of the Air Force Rescue Group said rescue workers shouted and used stones to bang on boulders in hopes that survivors would hear. There was only silence, he said.
Still, provincial Gov. Rosette Lerias said she was hoping for "a miracle" and she said rescue dogs would be sent to the school Sunday.
"I would like to believe it's true," she said. "I am giving it the benefit of the doubt, and that is why we are concentrating on the school building."
Not much else was left to concentrate on.
Survivors and relatives of the missing had trouble even figuring out where houses once stood in the 100-acre stretch of mud. Soldiers, firefighters and volunteers were given sketches of the village as it stood just days ago, but all the landmarks had been wiped away.
"It's hard to find the houses now," said Eunerio Bagaipo, a 42-year-old farmer who lost two brothers, almost 20 nieces and nephews and a number of in-laws. "There is nothing now, just earth and mud."
The search was complicated by heavy morning downpours, the threat that the mountain remained unstable and the possibility that 750 troops, firefighters and volunteers could get sucked down into the soft, shifting mud.
Weather forecasts said Leyte was expected to get more rain late Saturday and Sunday before conditions improve. The area, which is prone to landslides and flooding, has been drenched by 27 inches of rain over the last two weeks.
Army Capt. Edmund Abella called the conditions extremely hazardous.
"A few minutes ago, mounds of earth came down from the mountain again with the rain and rescuers ran away to safety," he said. Survivors blamed illegal logging for contributing to the disaster.
As news of the scale of the devastation reached international shores, emergency supplies, financial aid and offers of condolences poured in.
In Geneva, the international Red Cross appealed for $1.5 million to buy temporary shelter materials and other emergency health and cooking items.
The USS Essex and the USS Harper's Ferry, along with 17 helicopters and 1,000 U.S. Marines, were diverted to the scene from planned joint exercises.
Marine Capt. Burrel Parmer, a spokesman for the exercises, said a U.S. humanitarian assistance survey team was assessing the disaster area.
"We were about to practice this together in Balikatan, and this is an opportunity to do it together," Jones said.
Many residents of the landslide area were evacuated last week due to the threat of landslides or flooding following the heavy rains, but had started returning home when the rains let up and days turned sunny.
In November 1991, about 6,000 people were killed on Leyte in floods and landslides triggered by a tropical storm. Another 133 people died in floods and mudslides there in December 2003.