Auditors to scrutinize Three Gorges project
(Xinhua)
Updated: 2006-02-18 21:45
China will begin a comprehensive audit of the Three Gorges Project, the world's largest hydropower project, in March of this year, according to audit sources.
The project, which has been under construction for 12 straight years, is expected to cost 180 billion yuan (22.39 billion U.S. dollars). It is designed to have a combined generating capacity of 18.2 million kw upon completion in 2009.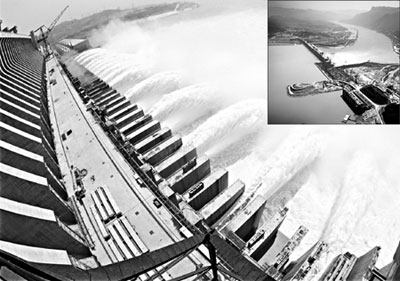 Water pours through the gigantic Three Gorges Dam, which was begun in 1993 on the middle reaches of the Yangtze, China's longest river, and is expected to be completed in in May this year.
(Inset): A bird's-eye view of the world's largest hydroelectric project, with an estimated cost of 180 billion yuan (US$21.7 billion) located in Central China's Hubei Province. [China Daily]

So far, 122 billion yuan (about 15.2 billion dollars) in investments have been made in the project, which is in the middle reaches of the Yangtze River.

Li Yong'an, general manager of the China Three Gorges Project Corporation, said his company is making essential preparations to support the audit.

"The project is a key national project supported by the whole country. A comprehensive audit of the project before its completion is very crucial," he said.

He said the company will also further beef up internal audits to ensure all the money is spent properly.

"Construction funds for the project are strictly managed. So far, there have been no corruption cases or cases of illegal appropriation of the funds," said Xia Kailiang, deputy director-general of the supervision office of the Three Gorges Construction Committee under the State Council, in an interview with Xinhua on March 29 last year.

Xia, however, admitted that there were problems in the relocation of former residents in the project area, which was a very complex job. At the end of 2003, 310 cases involving the misuse of 58.67 million yuan (some 7 million dollars) of funds for the relocation had been handled, of which 43 million yuan (5.38 million dollars) had been retrieved.

The project, located in Yichang of central China's Hubei province, cumulatively generated 100 billion kwh of electricity by February 10 of this year on 14 turbo-generators already installed on the northern bank.

Twelve more turbo-generators will be installed on the southern bank, the first of which will begin power production in 2007.

In addition to power generation, the project is also expected to play a vital role in flood control and navigation.