Bodies of murdered engineers flown home
By Le Tian (China Daily)
Updated: 2006-02-18 08:11
The bodies of three Chinese engineers who were shot dead in Pakistan on Wednesday returned home on Friday via a Pakistani air force plane.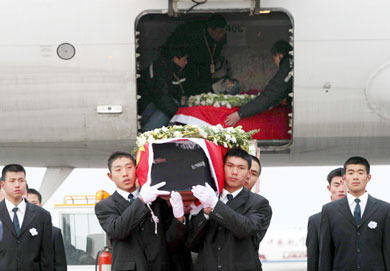 The bodies of three Chinese engineers killed in Pakistan are airlifted home February 17, 2006. [newsphoto]

Investigations are focusing on why no guards escorted the engineers the day when they were attacked. Local police usually accompanied the group during their travels in the country.

The special plane carrying the bodies landed at Urumqi airport in the Xinjiang Uygur Autonomous Region on Friday. It is scheduled to arrive at Luogang Airport in Hefei in East China's Anhui Province on Saturday.

Earlier in the day, 10 other Chinese engineers who worked together with the victims returned to Hefei. They are all from Hefei Cement Research & Design Institute, and were in Pakistan to offer technical services for the construction of a cement factory there.

The guards of the Chinese engineers were not accompanying them when they were attacked, local police officer Pervez Zahoor was quoted by Xinhua News Agency as saying.

"Police are investigating as to why the guards did not do so that day," he said.