Philippines landslide deaths may top 1,500
(AP/Xinhua)
Updated: 2006-02-18 08:19
GUINSAUGON, Philippines - A wall of mud and boulders swept down from a mountainside at terrifying speed Friday, burying this eastern Philippines farming village in up to 30 feet of sludge. Officials feared the death toll could climb past 1,500.
Chinese President Hu Jintao sent a message of condolence on Friday to Philippine President Gloria Macapagal-Arroyo over the heavy casualties and property loss caused by a massive landslide in the country.
In the message, Hu, on behalf of the Chinese government and people, offered sincere sympathies to President Arroyo, the Philippine government and the relatives of the victims.

The landslide left Guinsaugon — once a community of 2,500 people and an elementary school — looking like a giant patch of newly plowed land. Only a few jumbles of corrugated steel sheeting indicate Guinsaugon ever existed.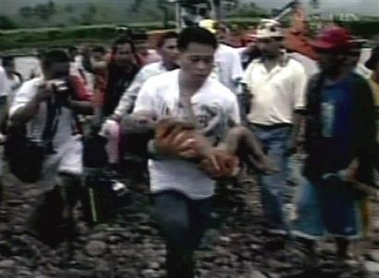 A small child is carried from a landslide on Leyte island in the eastern Philippines Friday, Feb. 17, 2006. A rain-soaked mountainside disintegrated into a torrent of mud on Friday, burying hundreds of houses and an elementary school in the eastern Philippines. Ten people were confirmed dead, and at least 1,500 were missing. [AP]

Survivors and others blamed persistent rains and illegal logging for the disaster.

The official death toll stood at 23. But the Philippine Red Cross estimated at least 200 dead and 1,500 missing. Significantly, only 53 survivors were plucked from the brown morass on Leyte island, about 400 miles east of the capital, Manila.

After suspending rescue efforts for the night, the search for survivors resumed Saturday morning. Relief planes headed to the remote village with food, water, sniffer dogs and search equipment.

Low clouds hung over the area after a night of sporadic rain. Rescue workers trudged slowly through the sludge, stretchers and ambulances waiting for survivors or the bodies of victims. The emergency crews were hampered by the thick, soft mud that remained unstable, along with flash floods spawned by two weeks of downpours that dumped 27 inches of rain.

Guinsaugon's 375 homes had disappeared.

"Our village is gone, everything was buried in mud," survivor Eugene Pilo, who lost his family, told local media. "All the people are gone."

"It sounded like the mountain exploded, and the whole thing crumbled," fellow survivor Dario Libatan, who lost his wife and three children, told Manila radio station DZMM. "I could not see any house standing anymore."

Southern Leyte province Gov. Rosette Lerias asked for people to dig by hand, saying the mud was too soft for heavy equipment.

"I have a glimmer of hope, based on the rule of thumb — within 24 hours you can still find survivors," Lerias said. "After that, you move on to the recovery phase, but right now it's still rescue mode."