Japanese PM urged to avoid shrine visit
(Reuters)
Updated: 2006-02-17 20:07
A Japanese opposition leader renewed his call Friday for Prime Minister Junichiro Koizumi and top Cabinet members to stop visiting a Tokyo war shrine at the center of tensions with China.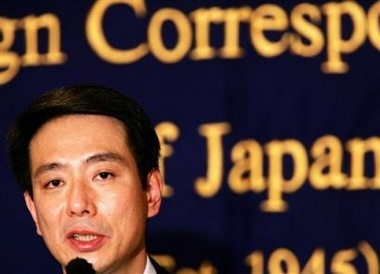 Japan's largest opposition party, Democratic Party Japan President Seiji Maehara delivers his speech during a news conference at the Foreign Correspondents' Club of Japan in Tokyo Friday, Feb.17, 2006. Maehara renewed his demand that Prime Minister Junichiro Koizumi and other top Cabinet ministers stop making inflammatory visits to a Tokyo war shrine at the center of political tension with Japan's neighboring countries. [AP]
Koizumi's annual visits to the Yasukuni Shrine, which honors Japan's 2.5 million war dead including convicted World War II criminals, has been a "major setback" for the country's Asian diplomacy, said Seiji Maehara, leader of the Democratic Party of Japan.
"The prime minister and prominent Cabinet ministers, including the chief Cabinet secretary and the foreign minister, should not visit a shrine that honors convicted war criminals," he said.
Koizumi has refused to stop worshipping at the shrine despite repeated protests from China, which says the visits reflect Japan's lack of remorse about its wartime aggression. Chinese leaders have refused to meet with their Japanese counterparts since Koizumi's latest visit to Yasukuni in October.
Koizumi has called the visits a spiritual issue, defending them as a time to pray for peace and express gratitude for those who sacrificed their lives for the country.
Maehara also criticized Yasukuni for hosting a museum that displays a sympathetic view of Tokyo's conquests in East Asia from the late 19th century until the end of World War II.
"I do not support Yasukuni's historical views and I consider its museum exhibits glorifying the war greatly problematic," Maehara said.
Maehara has been a frequent critic of shrine visits by Koizumi and his top Cabinet ministers.
He said the country's leaders should remember that Japan accepted the rulings by the 1946-1948 international war tribunal in Tokyo that convicted 14 wartime leaders, including then-Prime Minister Hideki Tojo, of war crimes. Tojo and six others were executed, but they were enshrined at Yasukuni after the government restored their honor.
During a recent parliamentary session, Chief Cabinet Secretary Shinzo Abe said the government acknowledges the tribunal's rulings but has never identified who was responsible for war crimes.