Bush satisfied with Cheney shooting response
(Reuters)
Updated: 2006-02-17 09:42
President George W. Bush said on Thursday he was satisfied with the explanation Vice President Dick Cheney gave about his accidental shooting of a fellow hunter.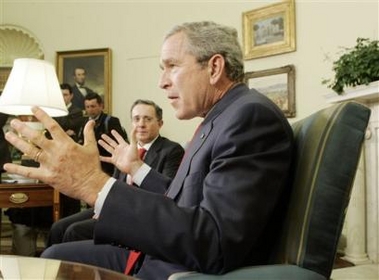 President Bush talks to reporters while meeting with President Alvaro Uribe of Columbia in the Oval Office of the White House in Washington Thursday, Feb. 16, 2006. [AP]
"I thought the vice president handled the issue just fine. And I thought his explanation yesterday was a powerful explanation," Bush said in his first public words about the shooting last Saturday of Texas lawyer Harry Whittington.
Bush deflected questions about whether he was satisfied with the timing of the announcement about the shooting.
Cheney rejected advice from White House aides to get the story out much sooner and waited about 18 hours before disclosing it. He broke his own personal silence about the shooting on Wednesday in a television interview.
Democrats who say the shooting was an example of White House secrecy "are making the wrong conclusion about a tragic accident," Bush said.
"Now our concerns are directed toward the recovery of our friend," Bush said of Whittington, who suffered a minor heart attack on Tuesday due to birdshot lodged near his heart.