Bush seeks more war, hurricane emergency money
(Reuters)
Updated: 2006-02-17 09:32
US President George W. Bush asked Congress on Thursday for $72.4 billion in emergency funds for the wars in Iraq and Afghanistan, as the pace of spending on the conflicts increased.
Bush also sought US$19.8 billion for the hurricane-battered U.S. Gulf Coast, which would push relief after Hurricane Katrina to some US$90 billion.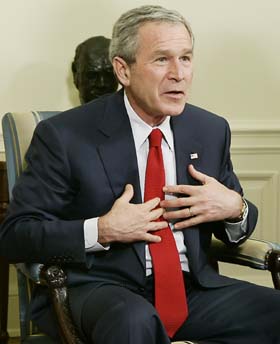 US President George W. Bush speaks to reporters in the Oval Office at the White House in Washington February 16, 2006. [Reuters]

"This request provides the resources necessary ... so the Coalition can continue to hand over control of more territory to Iraqi forces," Bush said of the war funding request.

The Pentagon would get US$65.3 billion to finance the wars, while additional funds for Iraq and Afghanistan aid and operations would go through the State Department and $2.9 billion would go to intelligence operations.

Bush also sought money for aid for the humanitarian crisis in Sudan's Darfur region, earthquake relief in Pakistan, promoting democracy in Iran and other uses overseas.

With this package and the US$50 billion the White House said it will seek for early next fiscal year starting on October 1, the wars' costs will pass $440 billion, and likely will approach US$500 billion by the end of next year, mostly for Iraq.

The cost for the wars this year will be about $111 billion, up from about $100 billion last year, White House and Pentagon officials said in a conference call with reporters.

Iraq operations are costing an average of US$5.9 billion per month, and Afghanistan an average of US$900 million, they said, attributing the higher costs partly to higher fuel prices.

Republicans said they would move quickly on the request, while Democrats said the mounting price tag reflected the administration's bungling of the Iraq conflict.

"The fog of war should refer to the chaos of the battlefield, not the administration's strategy," said Rep. David Obey (news, bio, voting record) of Wisconsin, top Democrat on the House of Representatives Appropriations Committee.

PREPARING IRAQI, AFGHAN FORCES

White House deputy budget director Joel Kaplan said the money will help "prepare our Iraqi and Afghan allies' security forces and their government to stand on their own and successfully combat the insurgents as well as providing urgent humanitarian relief."

Out of the Pentagon's share of the money, US$34.7 billion would go to operations in Iraq and Afghanistan; US$10.4 billion to overhaul and replace tanks, Humvees and other equipment being worn down in the conflicts; US$5.9 billion to train Iraqi and Afghan security forces; and US$1.9 billion for technologies to combat improvised explosive devices that have accounted for many of the casualties in Iraq.

A sum of $3.4 billion would go to the Pentagon's efforts to make Army brigades more quickly deployable and interchangeable.

The White House wants an additional US$3.25 billion for Iraq, split between the U.S. Embassy in Baghdad and other government operations and security there, and money to help rebuild and secure the infrastructure and improve the economy.

It also is seeking more than US$500 million for emergency humanitarian and peacekeeping needs in Sudan and the Darfur crisis, US$125 million in food aid to Africa, and $126 million for earthquake relief for Pakistan.

The additional money for hurricane rebuilding would be used for efforts to provide shelter and medical care to victims, as well as cleanup activities from the disaster that killed about 1,300 people on the U.S. Gulf Coast.

Louisiana would get US$4.2 billion in block grants to improve housing and infrastructure. The state suffered the worst losses from Hurricane Katrina, which also destroyed portions of Alabama and Mississippi.

The White House said nearly US$1.4 billion would be spent to protect New Orleans from future storms. About US$70 million would be spent on early-warning systems and other crisis communications equipment.

Federal facilities damaged by Hurricane Katrina, including a New Orleans veterans hospital, Coast Guard facilities and border protection, would be rebuilt with the emergency money.