Israel to seal gaza after Hamas takes over
(AP)
Updated: 2006-02-17 09:12
Israel on Thursday said it would begin sealing the Gaza Strip after the Hamas-controlled Palestinian parliament is sworn in this weekend, stepping up the Israeli campaign to weaken the Islamic militant group.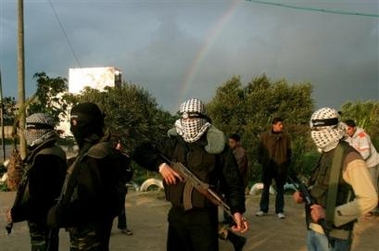 Masked gunmen of the Al-Aqsa Martyrs' Brigades attend a rally in Nusayrat refugee camp, south of Gaza City, Thursday Feb. 16, 2006. [AP]
Palestinian President Mahmoud Abbas, meanwhile, will demand that Hamas publicly accept his goal of reaching a peace deal with Israel and recognize past agreements with the Jewish state, officials said. Aides to Abbas declined to say what steps he would take if Hamas rejects his demands.
Hamas, which is committed to Israel's destruction, has refused to renounce violence or recognize Israel. But Hamas officials said Thursday they expect to reach a compromise with Abbas, and the group announced it would nominate Ismail Haniyeh as prime minister. He is known as a pragmatist and has served as a liaison between Hamas and the long-ruling Fatah Party.
Since Hamas won Palestinian legislative elections last month, Israeli leaders have taken a tough line against the group. They have rallied international opposition to Hamas, and said there will be no dealings with the militants until they change their ways.
Senior Israeli officials approved a series of tough measures Thursday aimed at crushing the Gaza Strip's teetering economy.
"The swearing-in of the Palestinian parliament on Saturday rings a gong for us," Defense Minister Shaul Mofaz told a meeting of high-level security and government officials, according to participants. "A Hamas government will mean an authority of terror and murder."
Israel will immediately bar laborers from Gaza from entering Israel, stripping about 4,000 Palestinian families of their main source of income, and halt the movement of Palestinian officials between the West Bank and Gaza, security officials said.
Israel will consider tougher economic sanctions later, including restricting Palestinian exports, the officials said. Barring access to Israel would be devastating for Gaza. The Israeli market is the largest for the impoverished coastal strip, and most of Gaza's exports go through Israeli ports.
The measures, which are expected to be approved Friday by acting Prime Minister Ehud Olmert, would take effect beginning Sunday.
The campaign is aimed at isolating the Gaza Strip from the West Bank. The Palestinians claim both areas for a future state.
Israeli officials said this week the government is likely to halt monthly transfers of about $50 million in taxes and customs duties it collects for the Palestinians. The transfers are crucial for the Palestinian Authority to pay salaries to 140,000 government workers. Israel has said humanitarian aid would continue.
Mushir al-Masri, an incoming Hamas lawmaker, condemned the economic threats.
"This is collective punishment on our people," he said. "The world should realize that more pressure on the Palestinian people will create more tension and everyone is going to be a loser, including Israel."
The Hamas-led legislature will convene for the first time Saturday. Abbas will then ask Hamas to form a Cabinet that recognizes interim peace agreements with Israel and his efforts to reach a permanent settlement, said Nabil Abu Rdeneh, a top aide to the Palestinian president.
"Any new government should be a continuation of the previous government," Abu Rdeneh said. "They have to say this publicly and in writing."
He declined to say what action Abbas will take if Hamas refuses to accept his program. Under the law, Abbas could fire a prime minister and ask someone else to form a government, but his choice would require approval from parliament.
Once Abbas taps Hamas to form a new Cabinet, the militants have five weeks to do so.
"We are really going to have a showdown and a major crisis," said Saeb Erekat, a Fatah lawmaker.
But Mushir al-Masri, an incoming Hamas lawmaker, said he was confident the two sides will reach a compromise. "All of us are shouldering joint responsibility to serve the interests of our people," he said.
Hamas officials have signaled they would support a long-term truce with Israel and accept existing agreements that serve Palestinian interests.
While Israel has been pleased with the international response to Hamas, there have been small cracks in the world's opposition. On Thursday, the exiled political leader of Hamas, Khaled Mashaal, met with Turkey's foreign minister in Ankara.
Turkey, which has close ties to Israel and the Palestinians, has been urging Hamas to reject violence. But Israeli Foreign Minister Tzipi Livni protested the Hamas visit in a telephone conversation with her Turkish counterpart, the Israeli Foreign Ministry said.
Israel also has criticized Russia for inviting Hamas leaders to Moscow. Russian said Thursday the visit would take place next month.