Iraqi government condemns Abu Ghraib abuse
(AP)
Updated: 2006-02-17 09:00
The Iraqi government Thursday condemned the past abuse of Iraqi prisoners shown in new pictures from the Abu Ghraib prison scandal, and a Web site said it had obtained more than 1,000 photos, videos and supporting documents from the Army investigation of the case.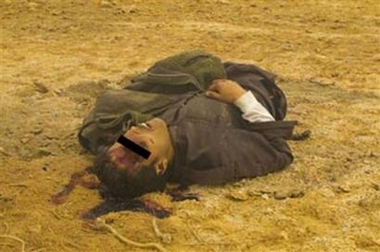 This image, manipulated by the source with a black rectangle, is from video made available Wednesday, Feb. 15, 2006 by the Special Broadcasting System in Australia which shows a man lying on the ground. The Australian television network said the images of prisoners were made at the Abu Ghraib prison in Baghdad in late 2003, and were among photographs the American Civil Liberties Union was trying to obtain from the U.S. government under a Freedom of Information request. SBS refused to give details on the source of the photographs, and the authenticity of the images could not be verified independently. [AP]
In a carefully worded statement, Prime Minister Ibrahim al-Jaafari's office said the government "strongly denounces such acts" but welcomed the "firm denunciation" issued by the Bush administration of past abuses at Abu Ghraib.
The statement also noted that the pictures and videos, first published Wednesday by an Australian television broadcaster, were from 2003 and that "the issue was dealt with at that time and the people involved were prosecuted."
Maj. Gen. Rick Lynch told reporters that the pictures and videos showed the actions of "rogue soldiers" and "those rogue soldiers have been punished."
Although both Iraqi and U.S. authorities sought to play down the latest pictures, the Web site Salon.com said it had obtained what it believed was the complete report by the Army Criminal Investigation Command of its 2004 investigation of the case.
The Web site posted 18 new images, including a picture of an Iraqi strapped face down on a bunk bed with women's underwear over his head, blood smears indicating a body had been dragged along the floor and a prisoner apparently sodomizing himself with an object.