France accuses Iran of making nuclear arms
(AP)
Updated: 2006-02-17 08:14
France accused Iran on Thursday of secretly making nuclear weapons, ditching Europe's traditional diplomatic caution for bluntness that echoed the tough U.S. stance and reflected growing exasperation with Tehran.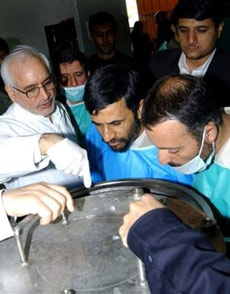 Iran's president Mahmoud Ahmadinejad (center), President of the Atomic Energy Organization of Iran Reza Aghazadeh (left) and Ahmadinejad's close advisor and cabinet secretary Masoud Zaribafan, right, visit the Natanz uranium enrichment facilities some 200 miles (322 km) south of the capital Tehran on Wednesday, Feb. 15, 2006. [AP]

Iran quickly denied the allegation by French Foreign Minister Philippe Douste-Blazy, who hardened the line that European negotiators had previously taken in their efforts to persuade Iran to suspend nuclear activities.

"No civilian nuclear program can explain the Iranian nuclear program. It is a clandestine military nuclear program," Douste-Blazy said on France-2 television.

"The international community has sent a very firm message in telling the Iranians to return to reason and suspend all nuclear activity and the enrichment and conversion of uranium, but they aren't listening to us."

Uranium enrichment can produce fuel for both nuclear energy and nuclear weapons. Iran resumed small-scale uranium enrichment last week but insists its nuclear activity is aimed solely at generating electricity.

While the United States has long accused Iran of seeking nuclear weapons, European leaders had been more delicate.

France's Foreign Ministry insisted Douste-Blazy's remarks were in line with the European position on Iran. France, Germany and Britain have been negotiating with Iran, but no other European leader has spoken so frankly.

German Chancellor Angela Merkel, in contrast to Douste-Blazy's evident frustration, said Thursday she was "very optimistic that we can do everything to solve this conflict with diplomatic means."

British Foreign Secretary Jack Straw also struck a more cautious note than his French counterpart.

"There are strong suspicions internationally that Iran may be seeking to use its nuclear program in order to develop a nuclear weapons capability," he said Thursday on a visit to Algeria. "We do not have absolute proof, we do not have conclusive evidence of this."

In Washington, the House voted 404-4 on Thursday to approve a non-binding resolution expressing support for efforts to report Iran to the U.N. Security Council. The Senate already approved the symbolic legislation, which imposes no legal consequences on Iran.

The U.N. Security Council will consider Iran's nuclear activities next month. The council has the power to impose economic and political sanctions on Iran.

"Now it's up to the Security Council to say what it will do, what means it will use to stop, to manage, to halt this terrible crisis of nuclear proliferation caused by Iran," Douste-Blazy said.