Fifteen die from carbon monoxide poisoning
(AFP)
Updated: 2006-02-17 07:18
Fifteen people have died and more than 270 others have fallen ill in northeast China from carbon monoxide poisoning caused by a combination of burning coal and bad weather.
Thirty-two residents were hospitalized and eight of them were in serious condition in Yanbian, Northeast China's Jilin Province, Xinhua news agency reported.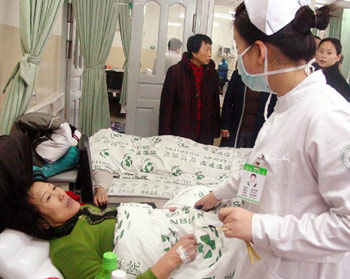 A woman receives treatment for carbon monoxide in Yanbian, Northeast China's Jilin Province February 16, 2006. [Xinhua]
Seven of the dead were found in their homes earlier, prompting local officials to send police to knock on doors in the region to check on residents.
Experts attributed the deaths and illnesses to unusually low atmospheric pressure and increased rain and humidity, which trapped carbon monoxide from burning coal close to the ground, the China Broadcasting Station reported.
Local authorities in the affected areas have stepped up publicity on how to treat carbon monoxide poisoning and urged locals to extinguish coal heaters and coal burners before they go to sleep, Xinhua said.
China is the world's largest consumer of coal, which is used widely in rural areas for cooking and heating.