Abu Ghraib abuse against international law: ICRC
(AP)
Updated: 2006-02-16 20:30
The International Committee of the Red Cross (ICRC) said on Thursday the latest images of abuse of Iraqi prisoners at Abu Ghraib prison showed clear violations of international humanitarian law.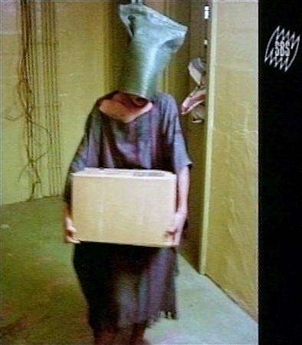 A TV frame grab shows an image made available by Australia's Special Broadcasting Service (SBS) on February 15, 2006, of what the broadcaster says is a detainee being abused in Iraq's Abu Ghraib prison taken in 2003. [Reuters]
However, the Swiss-based body, whose confidential reports have previously accused the U.S. military of using tactics "tantamount to torture" on inmates at the Baghdad jail, declined to say whether it would raise the issue again with Washington.
An Australian television station broadcast what it said were previously unpublished images of abuse of Iraqi prisoners at the facility, fuelling Arab anger against the United States.
"We are shocked and dismayed at the mistreatment and abuse displayed in these images," ICRC spokeswoman Dorothea Krimitsas told Reuters in Geneva.
"The type of treatment in these images -- video or photos -- very clearly violates the rules of international humanitarian law which are designed to protect people detained in the context of armed conflict," she added.
The 1949 Geneva Conventions protecting people captured in conflict -- which the ICRC seeks to uphold -- "forbid torture as well as any cruel, inhuman, or degrading treatment under any circumstance," according to the spokeswoman.
The current affairs program "Dateline," on Australia's Special Broadcasting Service, said the images were recorded at the same time as the pictures of U.S. soldiers abusing Abu Ghraib detainees which caused international outrage in 2004.
Some of the images were shown last year at trials in Fort Hood, Texas, including that of abuse ringleader Charles Graner now serving a 10-year prison sentence.
"These images are extremely shocking to us," Krimitsas said.
The ICRC visits prisoners in 80 countries worldwide, assessing conditions of detention and treatment of detainees. It also exchanges messages between detainees and their families.
In a damning report on the treatment of prisoners leaked in 2004, the ICRC spoke of U.S. mistreatment of Iraqi prisoners at Abu Ghraib, including keeping them naked for days in darkness, that "in some cases was tantamount to torture."
ICRC officials began visits to detention centers run by U.S. and other multinational forces in April 2003, a month after the invasion which ousted Saddam Hussein.
They have been unable to go to Abu Ghraib since January 2005 due to lack of security, Krimitsas said. "It is unfortunate."