China urges Pakistan to catch killers of engineers
(AFP/Xinhua)
Updated: 2006-02-16 19:53
China's leaders expressed "deep concern" over the killing of three Chinese engineers gunned down in the southwestern province of Baluchistan and demanded Pakistan to catch the killers.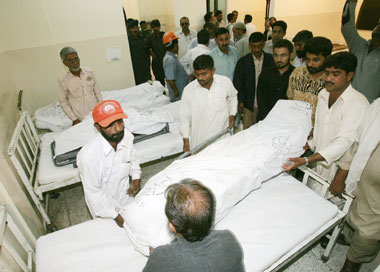 Bodies of the Chinese workers are brought to a hospital after a shooting incident in the Pakistani town of Hub, near Karachi, February 15, 2006. Pakistani separatist gunmen killed three Chinese workers and their driver in a drive-by shooting in southern Pakistan on Wednesday. [Reuters]



"President Hu Jintao expressed deep concern over the victims," foreign ministry spokesman Qin Gang told a regular press conference on Thursday.

"Hu Jintao ordered (the) Chinese foreign ministry, embassy and consulates to request Pakistan to catch the murderers and ensure the safety of the Chinese there and properly handle the aftermath," Qin said.

Foreign Minister Li Zhaoxing relayed the order to his Pakistani counterpart Khurshid Kasuri in an "urgent" 1:00 am phone call on Thursday, Qin said.

"(Li) asked Pakistan to take effective measures to ensure the safety of Chinese personnel in Pakistan and to catch those killers," he said.

In spite of the killing, China does not plan to evacuate engineers and technicians from Pakistan, said Qin.

However, he advised Chinese living there to be on alert and to take effective measures to protect themselves.

Gunmen on motorcycles shot dead three Chinese engineers working for a cement plant and their driver in Baluchistan province Wednesday.