Iran has secret military nuclear program: France
(Reuters)
Updated: 2006-02-16 17:09
French Foreign Minister Philippe Douste-Blazy said on Thursday Iran was pursuing a clandestine military nuclear program.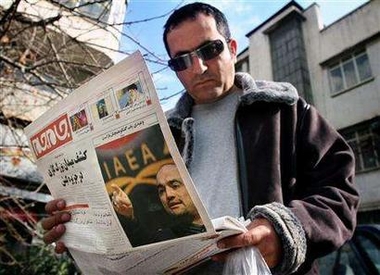 An Iranian man reads a newspaper with a front page picture of Iran's nuclear negotiator Javad Vaeedi at a newsstand in Tehran, February 15, 2006. France's foreign minister said February 16 that he believes Iran is pursuing a clandestine military nuclear program. [Reuters]
"No civilian nuclear program can explain the Iranian nuclear program. So it is a clandestine Iranian military nuclear program," Douste-Blazy told France 2 television.
"The international community has sent a very firm message by saying to the Iranians: 'Come back to reason. Suspend all nuclear activity and the enrichment of uranium and the conversion of uranium,"' he added.
"They are not listening to us."
China, which like France is a permanent member of the U.N. Security Council, urged a diplomatic resolution of the standoff on Thursday, a day after the United States said Tehran was defying the international community by resuming enrichment.
Iran on Tuesday resumed feeding uranium gas into centrifuges for nuclear-fuel enrichment after a break of 2-1/2 years, stoking a diplomatic showdown with the West.
Douste-Blazy said the international community was united on the nuclear issue and that the Security Council would decide how to act after the head of the U.N.'s nuclear watchdog submits a report on the situation in March.