China urges diplomacy on Iran issue
(Reuters)
Updated: 2006-02-16 16:49
China urged countries to keep seeking a diplomatic solution to the Iran nuclear standoff on Thursday, even as the international confrontation over Iran's nuclear enrichment escalated.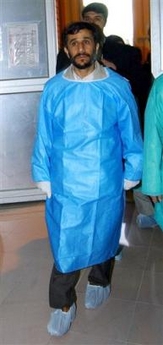 Iran's president Mahmoud Ahamadinejad, visits the Natanz uranium enrichment facilities some 200 miles (322 km) south of the Iranian capital Tehran Wednesday, Feb. 15, 2006. The unexpected visit came a day after Tehran confirmed it had resumed small-scale uranium enrichment at the central Iran plant. [AP]
"We're extremely concerned about the status of the Iranian nuclear issue," Chinese Foreign Ministry spokesman Qin Gang told a regular news briefing.
"It's extremely important for the international community to uphold the consensus on resolving the Iran nuclear issue through diplomatic means and call on the related parties to maintain calm, restraint and patience."
China repeated its general call for negotiations while the gulf between Tehran and its Western critics deepened on Thursday.
French Foreign Minister Philippe Douste-Blazy said Iran was pursuing a clandestine military nuclear programme. "No civilian nuclear programme can explain the Iranian nuclear programme. So it is a clandestine Iranian military nuclear programme," Douste-Blazy told France 2 television.
On Wednesday, the United States threatened sanctions against Tehran for resuming uranium enrichment for nuclear fuel without resolving suspicions it secretly wants to build atomic bombs.
Iran resumed small-scale feeding of uranium gas into centrifuge enrichment machines on Tuesday, officials close to the Vienna-based International Atomic Energy Agency (IAEA) said. Iran says the nuclear fuel is for peaceful power needs, not weapons.
Qin, the Chinese spokesman, said Iran had a right to peaceful nuclear power but urged it to cooperate with the IAEA, which has demanded it suspend enrichment and cooperate with nuclear inspectors.
"We believe that a member country under the NPT has the right to peaceful use of nuclear power. At the same time, it should follow the relevant international rules," Qin said.