New protests as Pakistan blames 'hidden hands' for riots
(AFP)
Updated: 2006-02-16 15:21
Thousands of Pakistanis have staged further protests over cartoons of the Prophet Mohammed as officials blamed extremists for riots that have targeted Western firms and left five people dead.
President Pervez Musharraf and Prime Minister Shaukat Aziz said "antisocial and criminal elements" were exploiting the demonstrations, which have begun to take an explicitly anti-US tone in Pakistan.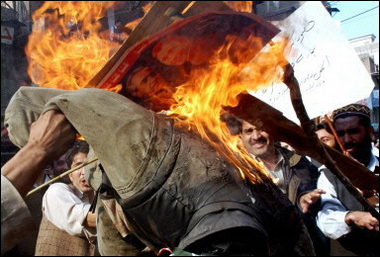 Pakistani Muslim protesters in Peshawar burn an effigy of US President George W Bush during a demonstration against the publications of the cartoons of Prophet Mohammed. Pakistan braces for new protests against cartoons of the Prophet Mohammed as officials blamed hardline groups for stoking the riots that targeted Western firms and left five people dead. [AFP]
More than 20,000 people were estimated to have joined a rally called by religious parties in Karachi, Pakistan's largest and most volatile city, shouting: "Oh Prophet, we are your servants. We are here to sacrifice our life to preserve your honour."
Paramilitary troops were deployed to protect branches of KFC, McDonald's and other Western fast food chains while residents said the main branch of US-based Citibank hid its logo under a black cloth.
Organisers repeatedly urged the crowd via a public address system not to hurl stones at public buildings, burn flags or torch effigies of Western leaders.
The protest began peacefully although marchers shouted slogans against Telenor, a Norwegian mobile-phone company whose offices have been smashed up in recent rallies.
The marchers, many wearing the green caps or turbans of a leading Sunni Muslim group and waving green flags, marched behind a banner calling on Muslim nations to cut ties with EU countries.
City police chief Niaz Siddiqui said some 5,000 police and paramilitary troops were on the streets, adding: "We have been on red alert for the past three days."
The government ordered the closure of all schools and colleges in Karachi on Thursday.
The fundamentalist Jamaat-i-Islami, a key component of a hardline opposition coalition of religious parties, has scheduled a separate rally by its women's wing -- the first in the country since the cartoon row broke out.
Traders in Karachi, a southern port city of 12 million people, have also planned a strike Thursday in protest over the cartoons published in mainly European newspapers, which have enraged the Muslim world.
Shopkeepers in the central city of Multan also downed shutters.
The protests come a day after 50,000 demonstrators rampaged through the northwestern city of Peshawar, torching a KFC outlet and 16 buses operated by a South Korean firm, and trashing some Telenor offices.
An eight-year-old boy was killed by a stray bullet and a man was electrocuted by power lines that toppled during the mayhem.
Riots also flared Wednesday for a second day in the historic eastern city of Lahore, where another person was shot dead, and in at least half a dozen other towns across the world's second most populous Muslim nation.
Two people died in Lahore on Tuesday and protesters in the capital Islamabad stormed a diplomatic enclave.
Police arrested 365 people in connection with the violence in Peshawar and are not ruling out further violence, the city's police chief Said Wazir told AFP.
As the unrest surged, Musharraf and Aziz vowed that the government would curb subversive elements wanting to "exploit sentiments of the nation to create a law-and-order problem in the country," state media reported.
Information Minister Sheikh Rashid was quoted in Dawn newspaper as saying that demonstrators in Lahore had carried out acts of violence at the behest of some "hidden hands."
Pakistan has witnessed almost daily protests since the row over the Danish cartoons erupted last month, but the rallies have turned angrier in recent days and ahead of a visit by US President George W. Bush in March.