Iverson sparks 76ers past Spurs in OT
(AP)
Updated: 2006-02-16 13:39
PHILADELPHIA - Before Wednesday night's game against Philadelphia, San Antonio Spurs coach Gregg Popovich praised his team's recent play in the fourth quarter.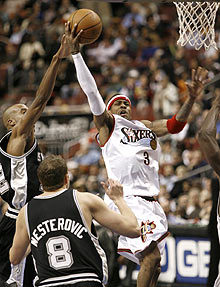 Philadelphia 76ers guard Allen Iverson (R) shoots under pressure from the San Antonio Spurs forward Bruce Bowen (L) and Spurs center Rasho Nesterovic during the second quarter of their NBA game in Philadelphia February 15, 2006.

A few hours later, Popovich watched his team fall apart in the final 12 minutes.

Allen Iverson scored 42 points and the 76ers made up a five-point deficit in the final 20 seconds of regulation on their way to a 103-100 overtime victory over the Spurs.

San Antonio, which had a nine-game winning streak snapped Monday at Cleveland, heads into the All-Star break losers of two straight.

"It (stinks) — especially because we really feel like we gave this one away," Tim Duncan said. "The last game we got beat pretty good. Tonight we come out and try to sure up a couple of things, and we still get a bunch of turnovers and missed free throws, and we still have a chance to win down the stretch and give it away."

Chris Webber added 21, including a key pair of free throws in overtime, for the Sixers, who broke a three-game losing streak.

"We know how these games are," Sixers coach Maurice Cheeks said. "We've been on the other side. We had games we thought we won, and the other team came back. San Antonio had the game won."

Hounded by Bruce Bowen, Iverson struggled early and hit just three of his first 11 shots from the field. He finished 17-for-37 from the field and 8-for-8 from the foul line. He also had nine assists, eight rebounds and two of the Sixers' season-high 16 steals.

"If that doesn't let us know we can beat a good team, I don't know what will," Iverson said. "Hopefully this one will give us some confidence, coming back on the World Champs."

Only twice this season have the Spurs lost consecutive games.

"No one expected us to win this game," Cheeks said. "That's the reason you play."