Attacking Iran should be an option: Britain's Tories
(AFP)
Updated: 2006-02-16 11:45
Military action against Iran should not be ruled out to deal with its controversial nuclear programme, a newspaper quoted Britain's main opposition Conservative Party as saying.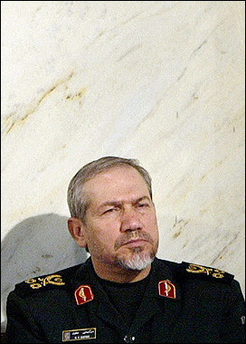 Iran's Revolutionary Guardians Cheif, Yahya Rahim Safavi, pictured in 2005. Iran is ready to counter any US aggression with offensive action, Safavi warned, as Washington unveiled new plans to promote democracy in the Islamic republic. [AFP]

The Times newspaper said the party's defence spokesman Liam Fox told US Republicans in Washington that British Prime Minister Tony Blair should follow President George W. Bush's example and leave all options on the table.

"Every pressure must be brought," Fox was quoted as saying in a speech to the right-wing Hermitage Foundation Thursday.

"But it was wrong for the European Union's foreign affairs spokesman Xavier Solana to rule out the use of force. It is wrong for Britain's Foreign Secretary, Jack Straw, to echo him.

"Frederick the Great once observed that diplomacy without arms was like music without instruments. We must keep all options open if we are to stand any chance of a diplomatic solution to the Iranian crisis."

Blair has made repeated warnings to Tehran that it was making a mistake by ignoring international concern over its nuclear research programme, which Western powers fear is a front for developing atomic weapons.

But he has said that military action is "not on our agenda".

Instead, he hopes the crisis -- which has seen Iran reported to the United Nations Security Council -- will be resolved through diplomatic means.

Fox is part of a Conservative Party delegation attempting to heal a rift with senior US Republicans following the Tories' call two years ago for Blair to resign over the Iraq war.