Iranian President visits uranium plant
(AP)
Updated: 2006-02-16 10:14
President Mahmoud Ahmadinejad visited the Natanz uranium enrichment plant Wednesday, a day after Tehran confirmed it had resumed small-scale enrichment there last week, the official news agency reported.
Ahmadinejad's visit to the plant in central Iran is widely seen as a gesture of support and a morale boost for scientists involved in Iran's uranium enrichment program. Activities at Natanz had been suspended since October 2003.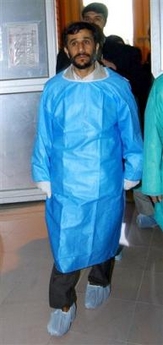 Iran's president Mahmoud Ahamadinejad, visits the Natanz uranium enrichment facilities some 200 miles (322 km) south of the Iranian capital Tehran Wednesday, Feb. 15, 2006. The unexpected visit came a day after Tehran confirmed it had resumed small-scale uranium enrichment at the central Iran plant. [AP]

"What enemies fear is not production of an atomic bomb, because in today's world atomic bombs are not efficient," Ahmadinejad was quoted as saying by the Islamic Republic News Agency. "The main fear and concern of enemies is the self-reliance and knowledge of the Iranian nation and the fact that Iranian youth are acquiring peaceful nuclear technology."

Vice President Gholamreza Aghazadeh and other top officials of the Atomic Energy Organization of Iran accompanied the president on his visit, the Islamic Republic News Agency said.

"The success of the Iranian nation in acquiring peaceful nuclear technology will help the country to make progress in all fields," Ahmadinejad said.

Iran insists its nuclear program is designed solely to generate electricity. Many Western nations, led by the United States and Israel, fear Tehran is trying to build nuclear weapons and have sought to stop Iran from enriching uranium.

On Feb. 4, the International Atomic Energy Agency reported Iran to the U.N. Security Council and called on its government to suspend all enrichment-related activities. Instead, Iran suspended certain aspects of its co-operation with the IAEA.

On Wednesday, a Russian Embassy official confirmed that Russia and Iran would hold talks in Moscow on Monday on Russia's offer to enrich uranium for Tehran. Moscow has offered to host Iranian enrichment in Russia, where it would have better oversight — a proposal meant to ease an international standoff over Tehran's nuclear program.

Also, a spokesman for the European Parliament's foreign affairs committee said Iran's foreign minister would meet the panel on Monday, a possible indication that Tehran was prepared to return to a dialogue with Europe.

Iranian officials announced Tuesday that enrichment had resumed last week at Natanz but that large-scale enrichment, as required for producing fuel for nuclear reactors, had not resumed.

Aghazadeh, who is also the head of the Atomic Energy Organization of Iran, said resumption of uranium enrichment was limited to "a few centrifuges."

Centrifuges are used to enrich uranium. Uranium enriched to low level is used to produce nuclear fuel for reactors and further enrichment makes it suitable for use in nuclear weapons.

Iran had 164 centrifuges in Natanz sealed by the IAEA in 2003. The seals were removed last month when Iran resumed nuclear research. Iranian officials have indicated that Tehran may possess up to 2,000 centrifuges. For a large-scale enrichment, Iran has to build up to 60,000 centrifuges.

Iran insists that as a signatory to the Nuclear Nonproliferation Treaty, which provides for peaceful nuclear development, it is entitled to enrich uranium for nuclear reactors. It has threatened to withdraw from the treaty if it was not allowed to exercise that right.