Rice to ask for US$75 million to promote democracy in Iran
(New York Times)
Updated: 2006-02-16 09:26
Secretary of State Condoleezza Rice told a Senate panel today that she plans to ask for US$75 million to promote democracy in Iran, but she met with sharp questioning from Democrats about whether Bush administration policies were promoting the rise of anti-American governments around the world.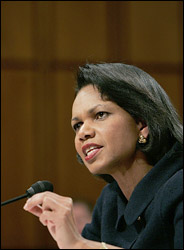 The secretary of state told a Senate panel today that she plans to ask for $75 million to promote democracy in Iran. [New York Times]


Ms. Rice told the Senate Foreign Relations Committee that the money for Iran, on top of US$10 million already provided in the current budget, would be used to "support the democratic aspirations of the Iranian people," and to counter the influence of Tehran's new hard-line regime.

"No one wants to see a Middle East that is dominated by an Iranian hegemony, particularly one that has access to nuclear technology," Ms. Rice said, and she later called Iran "our biggest single strategic challenge" in the region.

She said in her prepared statement that the extra $75 million "would enable us to increase our support for democracy and improve our radio broadcasting, begin satellite television broadcast, increase the contacts between our peoples through expanded fellowships and scholarships for Iranian students, and to bolster our public democracy efforts."

The bulk of the money, $50 million, would go toward establishing a round-the-clock television broadcast into Iran in Farsi, according to a state department official, along with improvements to radio and satellite broadcasting.

"The regime's policies are risking the total isolation of Iran, and the people of Iran shouldn't suffer from that," Ms. Rice told the Senate panel.

Ms. Rice and other members of the administration have stepped up their criticism of Iran in recent weeks, pressing for United Nations sanctions over its nuclear program and blaming the government of President Mahmoud Ahmadinejad for fomenting violent protests over the publication of satirical cartoons depicting the Prophet Muhammad.

But the focus on Iran today also reflected a sense that its standing has grown as the region has changed in recent years, with a friendly Shiite-dominated government preparing to take office in Iraq, Hamas winning elections for the Palestinian Parliament and radical groups like Hezbollah and the Muslim Brotherhood making gains in votes in Lebanon and Egypt.

Senator Joseph R. Biden of Delaware, the panel's top Democrat, said that any sanctions on Iran that included an embargo on purchases of its oil "would have a dramatic, dramatic negative impact."

Senator Chuck Hagel, a Nebraska Republican, called Iran "the most powerful country in the Middle East" and "the most difficult."

Mr. Hagel noted that the Iranians have the American military at their doorstep in Iraq and Afghanistan and that there are countries in the region — in Israel, India and Pakistan — that have nuclear weapons.

Mr. Hagel praised the administration for working closely with the International Atomic Energy Agency in seeking to rein in the Iranian's nuclear program, calling it was a change from the dismissive attitude that prevailed before the invasion of Iraq in 2003.

"I hope we are now past the Chalabi days of relying on that crowd or that kind of policy," he said, referring to Ahmad Chalabi, the former Iraqi exile leader whose group provided much of the information about Iraqi programs to develop weapons of mass destruction that was later found to be false.

In response, Ms. Rice said that "Iran is pursuing policies in the Middle East that are, if not 180, 170 degrees counter to the kind of Middle East that we would build."

But she said that she "would not overstate Iranian influence, by recognizing that it is diluted by a number of other forces and factors that are deeply suspicious of Iranian influence and Iranian power."

Ms. Rice said that harsh comments by Mr. Ahmadinejad since taking office last summer have "crystallized the concerns of the international community, "because he speaks in blunter ways about Iranian ambitions than did prior Iranian governments."

She acknowledged that Iran was likely to have close ties with the new, Shiite-dominated government of Iraq, but said she would be traveling to the Persian Gulf region to talk with leaders there about countering Iranian influence.

She said that the in the long run the rise of democracy in the Middle East would work to the Iranian theocracy's disadvantage, but she ran into sharp criticism from some senators, particularly Democrats.

Senator Barbara Boxer of California cited international polls that she said showed America's low standing in world opinions, and tied them to gains made by unfriendly parties in Venezuela and Bolivia as well as the Middle East.

"There are times when elections turn out in ways that we would prefer that they had not," Ms. Rice acknowledged. But she said that giving people a chance to make free choices was preferable to a policy that denied them that freedom.

The victory by Hamas, she said, has posed " a difficult moment in the prospects for peace." But, she said, "the Palestinian people got a chance to go to the polls and express their desire for change."

"I don't think our policy can be that you can only have elections if you are going to elect candidates who we favor," she said.

Senator Lincoln Chafee, a Rhode Island Republican, countered, "if we don't talk to the winners, I think that's a problem."