Debutant Wang repeats history;seeking more golds
(Xinhua)
Updated: 2006-02-16 09:16
TURIN, February 15 (Xinhua) -- History was repeated as Wang Meng, on her maiden Olympic tour, made it to the top podium in the women 's 500m of short track speedskating, the very event China earned its first-ever Olympic gold by Yang Yang in 2002.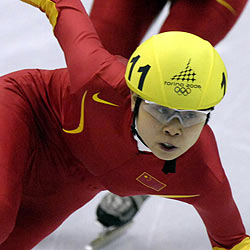 Wang, 20, waved her right fist after crossing the finish in 44. 345 seconds on Thursday, securing the first gold for China at the Turin Winter Olympics.
"I was extremely excited but I didn't race as well as I expected. From the very beginning, I felt very tense. My coach (Yi Min) pumped me up, I resumed my confidence and made it at last."
"This is my first Olympics," said the 2004 and 2005 world champion. "Before I came here, I didn't feel nervous about that, but when I started on the Olympic rink, I learned how nervous I was. Olympics is totally different from World Cup or world championships.
"I still can't believe I am already an Olympic champion. I have to collect myself and stay cool since I have three more events to compete. Our team is strong in overall strength, so we still have chances for more medals."
Before Wang started skating at the age of nine, she used to play table tennis but her parents were not happy because it interfered with her studies.
However, Wang went on with her sports journey in short track speedskating, withstanding her parents' objection, and it wasn't until she had to move to the sports institute that she had to tell them that she joined the skating team.
Indulged in the sport full of excitement and antagonism, Wang skated at the Qitaihe (a county in the Heilongjiang Province) Sports Institute for six months and went to the Heilongjiang Sports Institute in 1998. In 2000, Wang entered the Heilongjiang team, and went on to the national team in 2001.
Xin Qingshan, head coach of Chinese national team, said Wang was an industrious skater.
"She is tenacious and mentally strong," he said. "In either physical or technical training, she would always complete her sessions with high standard and quality."