Mourners pay tribute to veteran journalist
By Wang Shanshan (China Daily)
Updated: 2006-02-16 06:10
About 200 mourners paid their last respects to Feng Xiliang, a veteran journalist and founder of China Daily, at his funeral yesterday in Beijing.
Feng, also known as C.L. Feng, died from protracted illnesses on January 30 in Beijing at the age of 86, after devoting almost his whole life to journalism.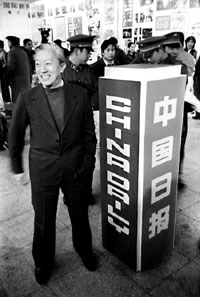 China Daily founder Feng Xiliang participates in a media exhibition in the mid-1980s in Beijing. Feng died on Monday in Beijing at the age of 86. [China Daily]

"His passing ends an era which began in our youth," remarked Manli Ho, a former journalist with the Boston Globe, who also worked at China Daily as a copy editor in the 1980s. "We shall always remember the heady days of the birth and the infancy of China Daily, how exciting it was and what a challenge it was to make this a newspaper that could stand up to the scrutiny of the world China was opening its door to.

"Luckily we had Feng at the helm, with his steady hand, his sense of humour and his charm."

Zhang Yan, former deputy editor-in-chief of China Today magazine, said Chinese news media were still shackled by leftist ideology when Feng and his colleagues were preparing for the new English language newspaper.

"But the paper courageously broke away from the confinement to model itself after leading international newspapers and make itself easier understood by the international readers," Zhang said.

Feng's other accomplishment was to mentor, to educate and to nurture the next generation of journalists at China Daily, according to Ho.

Outside of China Daily, Feng, who had his education at St. John's University in Shanghai and later journalism schools of the University of Missouri and Columbia University in the United States in the 1940s, "brought about a reform to other Chinese media outlets by introducing new ideas, especially those in photo journalism," said He Yanguang, director of the photography department of the Beijing-based China Youth Daily.

"China Daily became the first print media in China to emphasize the visual effect of its 'product,' by using large and vivid pictures with the focus on the people at the time Feng was the editor. Today all Chinese newspapers and magazines are doing so," he noted.

(China Daily 02/16/2006 page2)