76 websites shut in crackdown on piracy
(Reuters)
Updated: 2006-02-15 20:07
China on Wednesday said a four-month campaign had resulted in 76 Web sites being closed.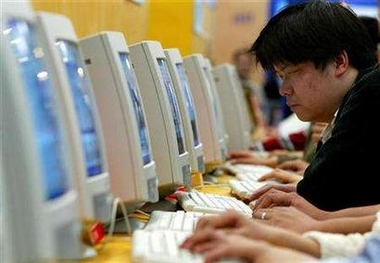 Chinese residents surf the web at an information technology fair in Shanghai, April 27, 2004. [Reuters]
Ofiicials said that since September, 172 cases had been investigated -- including 14 after requests from overseas companies -- and 76 had been shut down.
"Internet copyright infringement activities have been increasingly rampant, " Yan Xiaohong, deputy director of the National Copyright Administration, told a news conference.
"It has severely disrupted the music, film and software markets," he said.
Pirated music, movies and software are also sold openly on Chinese streets, a major irritant in trade relations with the United States.
Official figures show China now has about 700,000 Web sites and 110 million Internet users, making it the world's second largest Internet market.
U.S. Trade Representative Rob Portman said on Tuesday that China's failure to enforce intellectual property rights was helping inflate the huge U.S. trade gap with China, which hit a record $202 billion last year.
Yan said on Wednesday that China was considering signing two new international treaties to help fight digital piracy.
China has tried to appease the outside world with several crackdowns, tougher law enforcement and new legislation plans -- in September, a Beijing court ordered Chinese Web search giant Baidu.com Inc. to stop directing users to Web sites offering peer-to-peer swapping of uncopyrighted music.
But analysts said the intermittent campaigns would not resolve the billions of dollars lost to Chinese piracy as claimed by Hollywood.