Free condom to college students with flower purchase
By Echo Shan (chinadaily.com.cn)
Updated: 2006-02-15 15:49
"Roses for a bargain and condoms for free on Valentine's Day," read striking ads hanging on the doors of many flower shops adjacent to a Chinese university, reported China Youth Daily.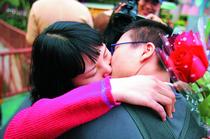 A couple of college student lovers enjoy an impassioned lip-lock on Valentine's Day. The younger generation of today's China are more open when it comes to love expression. [file photo]

Nearby florists raked in pink money after targeting lovelorn students of Fuzhou University in East China's Fujian Province by offering special treats on lover's day, which has been greatly hyped by businesspeople in recent years.

Besides getting a free condom, flower buyers also could get a pack of morning-after pills in a nearby pharmacist for free as well. The business just skyrockets in Valentine's Day, said a smiling florist.

Many of the customers had no hesitation in showing their college student identity, giving a thumb up for this condom promotion scheme, praising it as a considerate "after-sale service."

"Despite possibly being a business publicity stunt, the flower shops' free condom promotion does no harm to us students at all," a Fuzhou University senior student surnamed Zhou said when asked about the matter, adding, "the free condom included among purchased flowers spare us a trip to drugstore, so what's all the fuss about?"

However, most Fuzhou University teachers showed strong disapproval over the condom distribution, saying "The condom-and-flower sale package kind of drums for sex among college students. "

Some students also frowned upon this kind of flower promotion, fearing a tainted image of all Fuzhou students.

However, most of the students showed their benign tolerance, saying that as college students, they are already adults for whom sex is no longer a taboo, so the florists' idea was reasonable and deserves no criticism.