'Regulating Internet is global practice'
By Zhao Huanxin (China Daily)
Updated: 2006-02-15 06:30
Regulation of China's Internet is fully in line with international practice, and the country welcomes foreign Web businesses to provide lawful services, a top cyberspace regulator said yesterday (February 14) in Beijing.
Liu Zhengrong, deputy chief of the Internet Affairs Bureau of the State Council Information Office, also said Chinese people can access the Web freely, except when are blocked from "a very few" foreign websites whose contents mostly involve pornography or terrorism.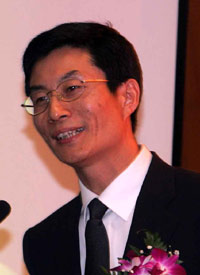 Liu Zhengrong [newsphoto/file]

"Regulating the Internet according to law is international practice," Liu told reporters. "After studying Internet legislation in the West, I've found we basically have identical legislative objectives and principles."

The Chinese Government has been very "positive" in supporting the Internet and has enacted only necessary legislation to support its development, he said.

Answering a China Daily question on criticism in some foreign media of Chinese websites deleting netizens' messages, Liu said it is a common practice around the world to remove "illegal and harmful" information.

Some leading US websites, including those of Yahoo and The New York Times, have explicit stipulations when it comes to posting messages in forums, he said.

For example, The New York Times website says: "We reserve the right to delete, move or edit messages that we deem abusive, defamatory, obscene, in violation of copyright or trademark laws, or otherwise unacceptable We reserve the right to remove the posting privileges of users who violate these standards of Forum behaviour at any time."

Liu said "it is unfair and smacks of double standards when (they) criticize China for deleting illegal and harmful messages while it is legal for US websites for doing so."

Asked to comment on the operations of US companies which have invested, or are involved, in the Chinese Internet market, Liu said China welcomes any foreign company that provides lawful services in the country.