China chides U.S. for criticism over trade, yuan
(Reuters)
Updated: 2006-02-14 20:39
China responded on Tuesday to U.S. demands for a stronger yuan to reduce its trade surplus by saying market forces were already driving the currency and warning Washington not to make political capital out of the issue.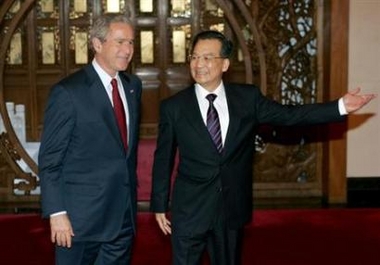 Chinese Premier Wen Jiabao (R) shows the way to President Bush at the Diaoyutai State Guest House in Beijing, November 20, 2005. China wants to work with the United States to reduce its bilateral trade surplus, but Washington will not help if it tries to make political capital out of the issue, an influential law-maker and economist said on Tuesday. [Reuters]
Tensions over trade have become a regular irritant in Sino-American relations and risk overshadowing a visit to Washington in April by President Hu Jintao.
Cheng Siwei, an influential law-maker and economist, said China and the United States should ease these frictions through consultations as equal partners.
He was speaking a day after the administration of President George W. Bush, facing rising political pressure over the record U.S. trade deficit, urged China to further free up its currency to steer growth away from exports and toward home-grown demand.
"We concede that China is running a relatively big trade surplus with the United States, but they shouldn't politicize the issue," Cheng, vice-chairman of the Standing Committee of the National People's Congress, or parliament, told a China-U.S. business forum.
China revalued the yuan by 2.1 percent in July, scrapped the currency's decade-old peg against the dollar and set it free to float within tightly managed bands. To Washington's frustration, the yuan has since risen by less than 0.8 percent.
Foreign Ministry spokesman Liu Jianchao reaffirmed China's determination to continue with reform of the yuan -- code for eventually letting it float more freely -- but said Beijing would dictate the pace of change.
"China will push forward the reform according to the development of the situation and the principle that is most favorable to the international economy and China's economy," he told a regular news briefing.
Wu Xiaoling, a vice governor of the People's Bank of China, said China was in fact already letting market forces drive the yuan. The currency rose 0.14 percent last week, the biggest gain in any week since it was unshackled from the dollar.
"I think this is the result of market operations and what we want is to let the market mechanism, based on supply and demand, play a role," Wu told Reuters when asked about the quickening pace of the yuan's climb.
The currency fell back slightly on Tuesday, ending at 8.0485 per dollar, compared with 8.0458 at Monday's close.