China: Proposed bill on trade harms ties
(AFP)
Updated: 2006-02-14 13:31
China says a proposed bill by two US senators that aims to repeal the Asian nation's normal trade relation status would only harm growing bilateral economic ties.
"The proposed bill by the American senators is harmful for the development of our relationship, it damages our countries' trading and economic partnership," the Ministry of Foreign Affairs said in a written statement.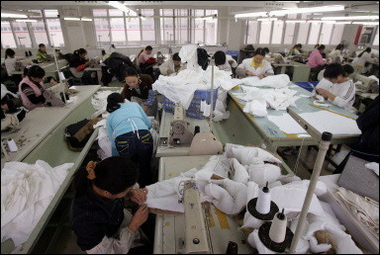 Workers produce winter jackets at a textile factory in the eastern Chinese city of Nanjing. [AFP]
"We are completely opposed to the bill."
The US Congress granted China the permanent normal trade relations status in 2000, paving the way for it to enter the World Trade Organization and for US businesses to deal more directly with Beijing.
Byron Dorgan and Lindsey Graham, who proposed the legislation late last week, said the status should be rescinded in retaliation for China's unfair trade practices.
They said China's trade tactics, including keeping the yuan artificially weak, were responsible for the huge US trade deficit with China, which is expected to surpass 200 billion dollars in 2005.
The lawmakers have not said when they plan to debate or push for a vote on the bill but the move comes as US President George W. Bush prepares to welcome his Chinese counterpart, Hu Jintao, for an official visit in April.