Love, oh so sweet, comes with price tag
(Xihua)
Updated: 2006-02-14 10:38
As Chinese lovers prepare to celebrate Valentine's Day, businessmen in love with money try to make lovers understand that love is not without its price tag.
Love is not priceless.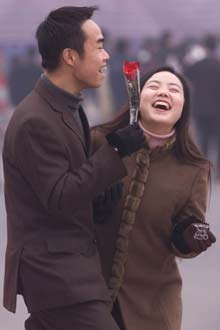 A couple of young lovers mark Valentine's Day with a single red rose, the classic symbol of the occasion. [newsphoto]

February 14th, today, is historically a day when lovers are honored in the name of god. But it is somewhat different when the event is growing in popularity among China's rich and fashion-conscious younger generation.

Florists, restaurateurs and jewelry makers have pounding hearts waiting a year for this huge business opportunity.

Romantic gifts at astronomical prices are popping up in China's big cities - commercialism is in the air, overshadowing the love.

In Beijing's Guohua shopping mall, a rose made of platinum was priced at 199,999 yuan (US$24,691). The life-size rose, weighing 258 grams, attracted curious buyers but no buyers.

"It's very interesting, but I would never open my wallet for it," said a young customer, surnamed Zhu. "I won't pay for such luxurious romance, even on Valentine's Day.

"Like other young people, I would buy something special for my girlfriend at Valentine's Day but the price must be reasonable."

However, businesses are confident. The market demand in Beijing is "huge," and the platinum rose is perfect to show one's love as the metal symbolizes purity, solidarity and eternity, said a Guohua manager.

He said the most expensive gifts on China's Valentine's Day used to be a 3,000-yuan silver rose and a silver box of rose-shaped chocolates worth 30,000 yuan.

Beginning in February, the prices of roses have been on the rise. Xue Zhenqiu, a florist in Beijing, estimated over 2 million roses would be sold in the capital for Valentine's Day.

But it is not just the price of traditional romantic gifts that is on the increase. Fancy hotels in big cities are offering Valentine's Day packages at an average 2,000 yuan a night.