China: Drug bid to beat child ban
(AP)
Updated: 2006-02-14 10:10
More Chinese women are exploiting easy access to fertility treatments to skirt China's one-child limit, leading to a boom in numbers of multiple births, an official newspaper reported Monday.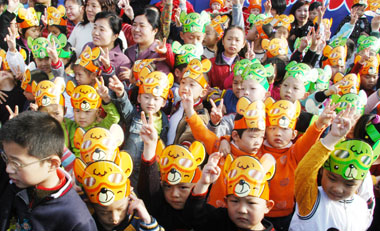 Over 300 twins gather in Nanjing, East China's Jiangsu Province in this November 12, 2005 photo. [newsphoto]
The main pediatric hospital in the eastern city of Nanjing recorded 90 births of twins or triplets last year, up from an average of 20 in past years, a doctor at the hospital told China Daily.
While many women underwent fertility treatment because they could not conceive, others -- especially among the urban upper class and in conservative rural areas -- did so specifically to get more babies per birth, the report said.
In the late 1970s China began limiting most couples to one child, punishing violators in the hope of limiting the ballooning population, which now stands at 1.3 billion.
Although the number of exceptions has broadened in recent years, the limits remain.
While no exact figures were available, previous media reports said the number of twins born annually has doubled nationwide. There are no penalties for multiple births.
Fueling the trend is the accessibility of imported fertility drugs in clinics and pharmacies.
The Ministry of Health issued a document in January 2005 prohibiting healthy women using fertility medicine.
The only way to control the sale was by forcing chemists to ask for prescriptions before selling the drugs, an unnamed Nanjing municipal Health Department official said.
The phenomenon of taking fertility drugs specifically to produce twins is not limited to China alone.
British doctors say around 10 percent of women seeking fertility treatment specifically ask for twins.