Top planner: Oil refinery capacity 'must rise'
By Fu Jing (China Daily)
Updated: 2006-02-14 06:09
The nation's top economic planner has warned that oil-refining facilities are stretched to the limit and urged that capacity be increased.
The National Development and Reform Commission (NDRC) also suggested that prices of refined-oil products, which are regulated by the government, be raised.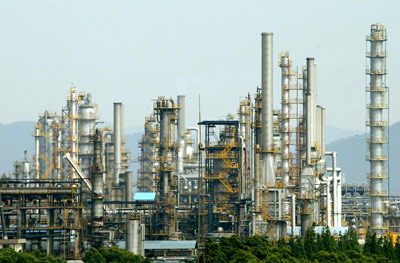 An oil refinery in Zhejiang Province is seen in this photo taken in May, 2005. [newsphoto]
"Low refined-oil prices and a fragile supply system are major problems facing China's refining industry," the commission's Industry Department said in a report.
It said the refineries of Sinopec and China National Petroleum Corp (CNPC) the two major oil producers have pulled out all stops but the country still needs an additional refining capacity of 17 million tons to meet demand.
Construction of refinery projects should he speeded up to satisfy oil demand, which is expected to grow by about 6 per cent this year, the commission said.
"With more refineries, we can avoid an excessive load on existing equipment and curb industrial accidents," it said.
The work safety situation in the oil industry is grave, with two major accidents reported within a month in companies under the umbrella of CNPC, the country's largest oil group.
Ten people were killed and nearly 40 injured in a gas pipeline explosion on January 20 in Renshou County, Southwest China's Sichuan Province. More than 1,800 residents were evacuated.
No casualties were reported at an oilfield explosion in the Xinjiang Uygur Autonomous Region on December 26.
Li Yizhong, minister of the State Administration of Work Safety, said many companies in China have been neglecting work safety while concentrating on production.
"The trend is evident not only in the coal mining sector but also in the oil refining industry," said Li at a recent national work safety meeting.
In a separate work safety report on the oil industry, the commission said the losses caused by accidents last year at CNPC rose 36 times over 2004.
The increase was mainly because of the November blast at a chemical plant of CNPC's Jilin Petrochemical Corp, which spilled 100 tons of benzene pollutants into the Songhua River.
On oil prices, the commission said there is room for them to go up.
It said China's oil refineries suffered a loss of 30 billion yuan (US$3.75 billion) in 2005, and they need price hikes to cut losses.
The government sets the prices of refined-oil products but the authorities are considering a gradual reform so that they are subject to market forces and in line with the global market.
The commission pointed out China's refined oil prices are lower than the world market levels.
"The economic performance of refineries this year depends on a policy adjustment on refined-oil prices," it said.
(China Daily 02/14/2006 page1)