Saddam lashes out at Bush, judge in court
(AP)
Updated: 2006-02-14 07:02
Prosecutors tried to link Saddam Hussein directly to torture and executions, producing documents with his orders and handwriting and putting one of his closest confidants on the stand Monday.
The former Iraqi leader and his co-defendants were forced to attend the session. Saddam appeared in a traditional Arab robe and bedroom slippers instead of his usual crisp suit, arguing vehemently with the judge and shouting "Down with Bush!" as he waved his finger.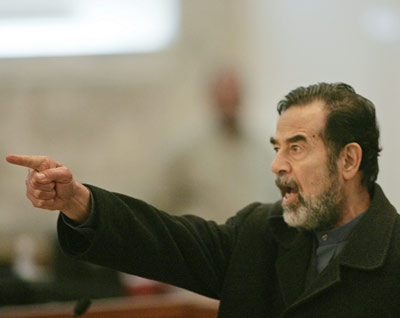 Former Iraqi leader Saddam Hussein gestures during his trial in Baghdad February 13, 2006. Saddam returned to court on Monday and immediately launched into tirades, pounding the railing of his metal pen, condemning the court and saying he had been forced to attend the trial, a Reuters witness said. [Reuters]
His top co-defendant and half brother, Barzan Ibrahim ¡ª dressed only in long underwear ¡ª struggled with guards as he was pulled into the courtroom. Ibrahim, the former chief of intelligence, then sat on the floor with his back to the judge in protest for much of the session.
The defendants have rejected court-appointed attorneys named to replace their own lawyers who walked out of the trial last month, and are demanding the removal of chief judge Rouf Abdel-Rahman. In Jordan, Saddam's chief defense lawyer said there were no plans to end the boycott and denounced the court for forcing the former leader to attend.
"This is a cheap attitude," Khaled al-Dulaimi told The Associated Press.
After the raucous start, prosecutors made their strongest attempt yet to prove Saddam's role in a wave of arrests and executions that followed a 1982 attempt on his life in the Shiite village of Dujail.
Twenty-six prosecution witnesses have testified since the Saddam trial began Oct. 19, many providing accounts of torture and imprisonment in the crackdown, but they could not directly pin them on Saddam.
For the first time, the prosecution introduced documents and put two former members of Saddam's regime on the stand. The witnesses included one of his closest aides, Ahmed Hussein Khudayer al-Samarrai, head of Saddam's presidential office from 1984 to 1991 and then again from 1995 until Saddam's ouster in 2003.