On a day for love, it is a matter of dates
By Wang Zhuoqiong (China Daily)
Updated: 2006-02-14 06:09
Tan Huimin has been looking forward to her Valentine's rendezvous tonight with her single friends who also do not have a date.
The 26-year-old designer will join them for dinner at a hotpot restaurant and belt out karaoke numbers later.
"Valentine's Day is also for people who are not in committed relationships," said Tan, admitting she would feel lonely if she were forced to spend the day alone.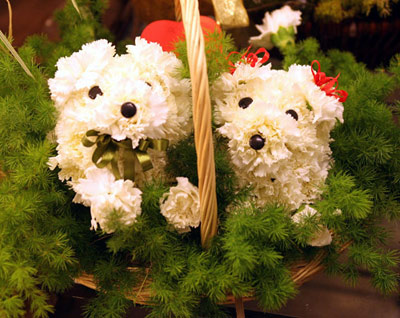 A pair of dogs made of flowers are shown in a flower shop in Shanghai February 13, 2006. 2006 is the year of dog in the Chinese lunar calendar. [Xinhua]
Media professional Fang Ling thinks along the same lines he will celebrate the day by going skiing with three friends.
"It is about spending the day with people you love yourself, your friends and family," the 25-year-old said. "I will buy a bouquet of flowers for my friend."
But not all are as sanguine or organized: some grow stressful as the day approaches.
"I feel uneasy about Valentine's Day. I try to ignore it," said Wang Jing, an IT engineer.
"Seeing other couples buying presents and going to movies only rubs it in that I am still single," the 28-year-old said, adding that of all Western festivities, Valentine's Day has the strongest influence in China.
Geng Jianxin, a counsellor at Zhihuiguo Counselling Agency in Beijing, said: "In today's rapidly-changing society, more young professionals remain single as a result of busy work schedules, economic pressures or incompatibility.