Beijingers think firecrackers overpriced
(Xinhua)
Updated: 2006-02-13 15:25
Despite revelries to light a firecracker at their doorsteps again after 12 years, most Beijingers think the festive explosive is overpriced if bought at a franchised sales outlet.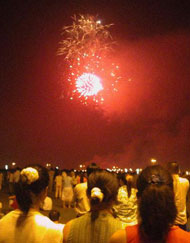 People get together to watch fireworks displayed for celebration of the lunar new year. [baidu]

Of the 50 citizens surveyed by the Beijing News, 48 said fireworks are "expensive," the metropolitan newspaper reported Monday.

"I bought a string of firecrackers for more than 30 yuan (3.75 U.S. dollars) and they cracked for just two minutes," a citizen surnamed Geng was quoted as saying.

"Fortunately I'm not that crazy about fireworks -- if I were, I'd have bought them from illegal vendors at much lower prices," said Geng, who lives in Shijingshan district in western Beijing.

But only 13 of the people surveyed said they would rather buy cheaper firecrackers from illegal vendors, while all the other 37 said they would willingly spend more for safety considerations.

"I don't mind paying extra. It's worth it as long as we're all safe and content," the newspaper quoted a citizen surnamed Feng, one of the only two respondents who said the firecrackers were fairly priced.

Bright flashes and loud booms rocked urban Beijing during this year's Spring Festival starting on January 29, as the city removed a ban on the festive.

Yet many people were unhappy with the lift of the ban because the noises disrupted their normal life, the newspaper said.

One citizen surnamed Wang worried all during the holiday that the loud booms might deteriorate his elderly parents' failing health, while a lady surnamed Zhang said her pet dog was so scared of the loud noises on the eve of the Chinese New Year that it did not eat for three days.

The setting off of firecrackers has been a long-standing controversy. Those in favour say they are part of traditional Chinese culture, while those against them say they make noise, pollute the air and pose danger to people's safety.