Chen Kaige calls parody of new movie immoral
(AP)
Updated: 2006-02-13 13:47
Famed Chinese director Chen Kaige has denounced an online parody of his latest epic "The Promise" as immoral and instructed his lawyer to look into the matter.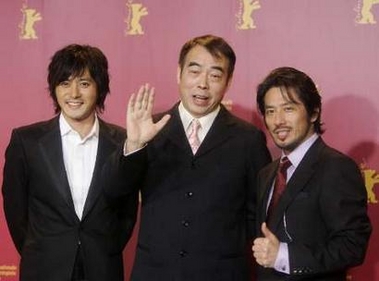 Chinese director Chen Kaige (C) pose with South Korean actor Jang Dong-Gun (L) and Japanese actor Hiroyuki Sanada (R) pose during a photocall to present their competition film 'The Promise' at the 56th Berlinale International Film Festival in Berlin February 12, 2006. The festival runs from February 9-19. [Reuters]


The Web movie, produced by Internet prankster Hu Ge and titled "A Murder Sparked by a Chinese Bun," expands on the movie's premise that one of its main characters turned evil because he was cheated out of a Chinese bun as a child.

"I think this is an approach that has lost the most basic moral bottom line," Chen said in an interview on the sidelines of the Berlin Film Festival, which appeared on the Chinese Web site Sina.com on Monday.

"The Promise," a US$35 million (euro29 million) production, is a mythology about an ordinary girl transformed into a princess by a goddess on the condition that she will never find true love. As a young girl, the princess cheats a future duke out of a bun. As an adult, the duke becomes one of her adversaries.

"I think this (parody) has exceeded the normal bounds of issuing commentary and opinion. It's an arbitrary alteration of someone else's intellectual property ... if (Hu Ge) made a movie, and people did this, how would he feel?" Chen said.

The director said he has asked his lawyer to look into the parody, but did not explain what sort of legal action he is considering.

Meanwhile, Chen said he expects "The Promise" to make at least 210 million Chinese yuan (US$26 million; euro22 million) at the Chinese box office _ a considerable amount in China's developing movie market. He said the U.S. distribution rights have been picked up by Warner Bros. and that it will show in U.S. theaters from May.

Chen is best known for his art-house movies including "Yellow Earth" and "Farewell My Concubine," and "The Promise" is one of his first forays into commercial blockbusters. In an apparent attempt to cultivate a pan-Asian market, he cast Japanese and South Korean actors in the movie.

"When we first started working as movie directors, there was no concept of market and you were not required to have a concept of market," he told Sina.com. "But when the market of concept suddenly appears before you, you have to face it ... I think it's very irresponsible to not consider market returns for a movie involving such a big investment."