Li brings China's 1st medal in Games
(CRI/www.chinadaily.com.cn)
Updated: 2006-02-13 10:20
Chinese speed skater Li Jiajun has delighted the Chinese crowd with a surprising result, winning a bronze medal in the men's 1500-meter race, China's first medal in Turin Games.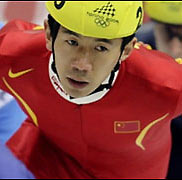 The 31-year-old veteran, in his fourth and last Olympics, didn't expect he would enter the final and go on to win a medal through his hard work.
"I am short of strength after racing so hard in the first two heats," Li said. But he refused there would be physical problems in the 500-meter and 1,000-meter races scheduled for this Saturday and next Wednesday. "I will put forth my best effort."
Li jiajun, one of the best short track speed skaters in China, has career-wide accolades including: four-time Olympic medalist, 16-time world championship medalist, and nine-time world champion. Li was the first Chinese male athletes to win the overall short track world title in 1999, and repeated the feat in 2001.
In women's races on Day II, China's Wang Meng and Fu Tianyu have entered Wednesday's 500-meter short track race final and the Chinese women's team has qualified for the 3000-meter relay final.
The United States, Germany, and Norway are the top three in the metals tally. China is now positioned in 14th place after Li Jiajun won the bronze.
On the third day, China hopes to win medals in three competitions: pairs' figure skating, men's 500-meter speed skating, and women's 15-kilometer biathlon. Pair's free skating will be a real test for three sets of Chinese skaters as the leading Russian duo, Tatiana Totmianina and Maxim Marinin, have a nearly 4-point advantage over Chinese favorites Zhang Dan and Zhang Hao after the short program. 22-year old Yu Fengtong is seeking his first gold medal in 500-meter speed skating.