US boosting ties with Algeria
(Reuters)
Updated: 2006-02-13 10:14
U.S. Defense Secretary Donald Rumsfeld said on Sunday Washington intended to deepen its military and counter-terrorism ties with Algeria, but avoided saying whether this was dependent on Algerian political reforms.
Rumsfeld also said he discussed possible arms sales during a 95-minute meeting with President Abdelaziz Bouteflika but added: "I'm not on a weapons-sale mission."
Rumsfeld, on a three-day trip to North Africa, traveled from Tunisia, where he visited a cemetery for U.S. soldiers killed in World War Two, to Algiers for a 5-1/2 hours visit. He flew on to Morocco where he toured the royal horse ranch and met Moroccan leaders.
"We look forward to strengthening our military-to-military relationship and our cooperation in counter-terrorism," Rumsfeld said at a joint appearance with Bouteflika at the presidential palace in Algiers.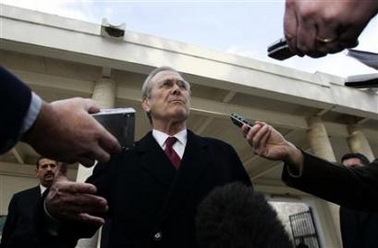 U.S. Defense Secretary Donald Rumsfeld speaks with reporters following a tour of the Carthage Museum in Carthage, Tunisia February 11, 2006. [Reuters]

Asked whether the United States would make military cooperation with Algeria contingent on political progress in the country, Rumsfeld declined to answer directly.

"The United States and Algeria have a multi-faceted relationship. It involves political and economic as well as military-to-military cooperation. And we very much value the cooperation we are receiving in counter-terrorism because it's important to both of our countries."

U.S. relations with Algeria, Africa's second-largest country, have been warming after a long period of tension and the two opened military-to-military exchanges last year.

Washington views Algeria, Tunisia and Morocco as forces of moderation in North Africa, amid concerns about Islamic extremism.

TREES AND FLOWERS

Bouteflika did not speak during the joint appearance in bright sunshine at the presidential palace, a white Moorish building in a compound dotted with palms and ornamental trees and colorful flowers.

Between 150,000 and 200,000 people have been killed in Algeria since an Islamist uprising began in 1992 after authorities canceled legislative elections that the Islamic Salvation Front was poised to win.

Rumsfeld said he discussed the issue of arms sales with Bouteflika "only in a minor way" and he did not know whether sales would be made, but added: "They have things they desire and we have things we can be helpful with."

A senior U.S. defense official traveling with Rumsfeld said: "They're looking to replace their jet aircraft, and I don't think that's in the realm of possibility yet."

The main outlawed group in Algeria is the Salafist Group for Preaching and Combat, known by the French acronym GSPC. It is on the U.S. list of foreign terrorist organizations and pledged allegiance to al Qaeda in 2003.

Pentagon officials said they believed this was the first visit to Algeria by a U.S. Defense Secretary. Algeria had been a key player in the Non-Aligned Movement during the Cold War.

The defense official traveling with Rumsfeld said the United States was trying to encourage regional cooperation between Algeria and Morocco, as well as Tunisia, but the dispute over the Western Sahara was a stumbling block.

Morocco, which annexed Western Sahara in 1975 when former colonial power Spain pulled out, fought a guerrilla war with the Polisario Front which is based in southwestern Algeria and is seeking the desert territory's independence.