Iran reaffirms commitment to nuclear pact
(AP)
Updated: 2006-02-13 09:58
Iran reaffirmed its commitment to a nuclear arms control treaty Sunday and urged a peaceful solution to the international crisis over concerns it is seeking to develop atomic weapons, a day after its hard-line president issued a veiled threat to withdraw from the pact.
Inspectors from the International Atomic Energy Agency, meanwhile, began a mission to Iran to learn just what controls remain on nuclear sites and equipment after Tehran ended all but minimum cooperation with the U.N. nuclear watchdog agency.
In Vienna, Austria, a diplomat told The Associated Press Saturday that some International Atomic Energy Agency seals and cameras had been removed from Iranian nuclear sites within the last few days, suggesting that happened without IAEA supervision. But others familiar with the probe said they doubted the Iranians would make such a move before the arrival of the inspectors, which occurred over the weekend.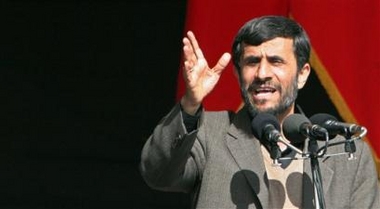 Iranian President, Mahmoud Ahmadinejad, delivers his speech in front of tens of thousands of Iranians during a ceremony marking the 27th anniversary of Iran's Islamic Revolution at the Azadi (Freedom) Sq. in Tehran, Iran, Saturday, Feb. 11, 2006.[AP]

Foreign Ministry spokesman Hamid Reza Asefi said Iran would cooperate with the Nuclear Nonproliferation Treaty and the safeguards it provides.

"We are still committed to the provisions of the NPT. But we can't accept its use as a (political) instrument," Asefi said at a weekly news conference.

On Saturday, President Mahmoud Ahmadinejad rejected U.S. and European pressure to resume a freeze the country's nuclear program and hinted that Iran might withdraw from the treaty.

"The nuclear policy of the Islamic Republic so far has been peaceful. Until now, we have worked inside the agency (IAEA) and the NPT regulations," he said in a speech before tens of thousands of Iranians marking the 27th anniversary of the Islamic Revolution.

"If we see you want to violate the right of the Iranian people by using those regulations (against us), you should know that the Iranian people will revise its policies," he said.

US Secretary of State Condoleezza Rice warned that such a move by Iran "would only deepen their own isolation," citing a recent IAEA decision to report the country to the U.N. Security Council, which could impose sanctions, after months of failed talks between the Iranians and European negotiators.

"The really remarkable thing over the last several months is that there's really now a tremendous coalition of countries that are saying exactly the same thing to Iran," she said Sunday on ABC's "This Week."

"And so, the Iranians now need to step back, look at where they are, see that they're isolated on this issue, and return to a state in which they would ... get back into good graces with the IAEA, and get back into negotiations with those who are prepared to offer them a course for civil nuclear power," she said.

Tehran repeatedly has stressed the nuclear arms control treaty allows it to pursue a nuclear program for peaceful purposes and it has said it will never give up the right to enrich uranium to produce nuclear fuel. The U.S. and its European allies believe Iran is seeking to develop atomic weapons.

Uranium enriched to a low degree can be used for nuclear reactors, while highly enriched uranium is suitable for warheads.

North Korea — the world's other major proliferation concern — quit the NPT in January 2003, just a few months before U.S. officials announced that Pyongyang had told them it had nuclear weapons and may test, export or use them depending on U.S. actions.

The Iranian Foreign Ministry spokesman urged the IAEA and the Europeans to keep open diplomatic channels.

"The agency and other parties should not block roads to Islamic Republic of Iran and should solve the case in the framework of the regulations," Asefi said.

He rejected comments by British Foreign Minister Jack Straw, who said last week that there was no proof but "very high level of suspicion" that Iran was trying to build a nuclear weapon.

"How do you apply a policy of non-trust toward Iran when there is no proof that Iran is trying to divert its nuclear program toward a weapon?" Asefi asked.

Tensions escalated last month after Iran removed U.N. seals and began nuclear research, including small-scale uranium enrichment at its plant in Natanz, central Iran.

Diplomats in Vienna, where the IAEA is based, said the agency still has some seals and equipment at Natanz and Isfahan, where Iran is converting raw uranium into the feedstock gas for enrichment. The seals and cameras were allowed under basic agreements linked to the nuclear arms control treaty, which Iran has signed.

Still, with those agreements only meant to monitor Iran's declared and existing nuclear stocks, they are considered inadequate in the agency's ongoing efforts to establish whether the country has tried to develop a nuclear weapons program at undeclared facilities. Iran also recently lifted the agency's rights to inspections on short notice.