Heat rally to down Pistons 100-98
(AP)
Updated: 2006-02-13 09:33
MIAMI - Dwyane Wade led the comeback and then the celebration, skipping along the sideline and high-fiving jubilant fans. The Miami Heat finally showed they can beat the elite, especially when they have Wade as a weapon.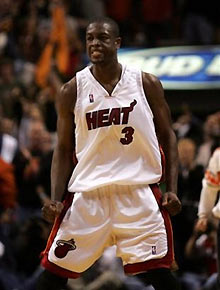 Miami Heat guard Dwyane Wade reacts after scoring the winning basket against the Detroit Pistons in the fourth quarter of an NBA basketball game Sunday, Feb. 12, 2006, in Miami. [Reuters]

He scored the Heat's last 17 points, including the game-winner on a 16-footer with 2.3 seconds left, and they edged the Detroit Pistons 100-98 Sunday.

Touted before the season as title contenders, the Heat improved to 1-7 against the NBA's four top teams. But they needed a frantic rally to do it.

Miami trailed 90-83 with 4 1/2 minutes left when Wade took over. His 17 consecutive points were a franchise record, and he finished with 37.

"It was a lot of fun," he said. "It was time for me. I had to come through and help this team win. I put it on my shoulders at the end to make some plays."

Wade sank his final seven shots and scored 28 points in the second half.

"Dwyane took the game over," Detroit coach Flip Saunders said. "He got a lot of shots up, and we couldn't get any help over."

Shaquille O'Neal kept the Heat in the game early and finished with a season-high 31 points.

"It was a big win," O'Neal said. "We could have let it slip away, but we kept on fighting. Now we have to develop some type of consistency. Anybody can win one game. We have to do that night in and night out."

Chauncey Billups had 29 points and 10 assists for the Pistons. They've lost three of their past five games but still have the NBA's best record at 41-9.

"The Heat might look at this as being bigger than it really is," Billups said. "It's just another win. But they have struggled against teams with better records, so beating the team with the No. 1 record is a big win for them."