Zhangs to unveil quadruple jump
By Lei Lei (China Daily)
Updated: 2006-02-13 05:35
TURIN, Italy: Young Chinese skaters Zhang Dan and Zhang Hao, who are currently in second place after the short programme competition at the 2006 Turin Winter Olympic Games, will try a complicated movement in the deciding free skate.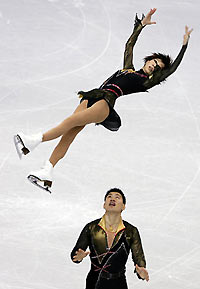 They will attempt quadruple throw salchows in Monday's free skate (Tuesday morning, Beijing time), according to their coach Yao Bin.
"The two Zhangs will be sure to show the quadruple throw in their free skate," said Yao. "But the final results won't be decided by this movement alone. History will be made with this movement, but I'm not sure if it will secure the gold."
At the 2002 Winter Games, China's star pair Shen Xue and Zhao Hongbo tried the quadruple throw salchows in the free skating programme, but Shen failed to land properly, which left them in third place.
Shen and Zhao are fifth this time after being absent from competition for the whole season due to Zhao's tendon injury.
Zhang and Zhang are the first pair to successfully complete the quadruple throw in formal competition; they did it at China's 10th National Games last year, where they won the gold medal.
Now, they believe they are in the right form to do this difficult movement again.
During Sunday's short programme competition, the two Zhangs scored 35.21 points for technical elements and 29.51 for performance components - a total of 64.72 points. They are behind Russia's reigning world champion duo Tatiana Totmianina and Maxim Marinin.
Their new personal best score for artistic performance also helped them to start China's gold medal chase at this year's Games in Turin.
"We were very, very satisfied with our routine today, especially with the artistic performance," Zhang Hao said after the competition. "Since all the programme component scores were above seven this time, we achieved a breakthrough."