Retail sales to hit 10 trillion yuan by 2010
By Su Bei (China Daily)
Updated: 2006-02-13 05:24
China's retail sales will continue to grow at a fast rate over the next few years, thanks to the government's increasing emphasis on stimulating consumer demand.
Huang Hai, assistant minister of commerce, said the nation's retail sales, an important indicator for the consumption demand, will grow at an average annual rate of more than 11 per cent during the 11th Five-Year Plan (2006-10) period.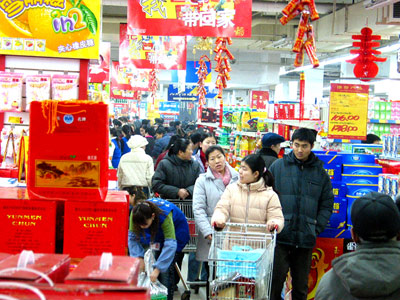 Citizens shop in a super market in Weifang, East China's Shandong Province in this photo taken on January 10, 2006. [newsphoto]
"By 2010, the country's retail sales will reach over 10 trillion yuan (US$1.2 trillion)," Huang was quoted yesterday as saying by Xinhua.
Earlier figures from the National Bureau of Statistics indicate that China's retail sales rose 12.9 per cent year-on-year to 6.7 trillion yuan (US$828.3 billion) last year.
Such a strong growth, fuelled mainly by rising household incomes and more stable consumer prices, is just what the government wants to see, said Qi Jingmei, a senior economist with the State Information Centre.
"The current economy relies too much on fixed asset investment, which results in both overcapacity and trade friction," she said.
In developed countries such as the United States, consumption usually accounts for 70 to 80 per cent of the gross domestic product (GDP), but it accounted for just 33.3 per cent of China's GDP last year.
The government wants to let consumption play a more important role in its future economic growth, Qi said.
Finance Minister Jin Renqing said late last year that the country's fiscal policy will help boost consumption demand during the 11th Five-Year Plan period.
Such fiscal measures will include an increased spending in the fields of education, health care and social security, he said.
Zhuang Jian, a senior economist with the Asian Development Bank's Resident Mission in China, said Jin's pledge is good news for both urban and rural residents.
"With less financial burden, people will be more willing to spend," he said.
The government has already taken a series of other measures to adjust the relationship between investment and consumption, Zhuang said.
As of January 1 this year, the government raised the threshold on personal income tax from 800 yuan (US$99) to 1,600 yuan (US$197), which has increased the people's spending capacity by letting them keep more money.
The government also gave up agriculture taxes and made compulsory school education free in rural areas, which saves money for rural citizens.
(China Daily 02/13/2006 page2)