Energy is central focus at G-8 finance meeting in Russia
(AP)
Updated: 2006-02-12 14:43
Russia's energy clout took center stage as Moscow hosted finance ministers from the Group of Eight nations, its economy buoyed by high oil prices and its reputation battered by a gas dispute with Ukraine.
Despite storm clouds from the gas fight that had threatened to overshadow Saturday's discussions among the world's most industrialized nations, officials appeared to put in place a blueprint for a summit of the G-8 heads of states in July that will likely focus on energy security.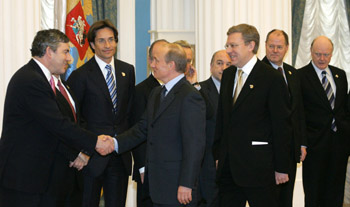 Russian President Vladimir Putin (3rd L) shakes hands with Britain's Chancellor of the Exchequer Gordon Brown (L), watched by Finance Minister Alexei Kudrin (3R), as he welcomes G8 finance ministers and international financial officials in Moscow's Kremlin February 11, 2006. G8 finance ministers are committed to a speedy conclusion of talks to allow Russia to join the World Trade Organisation (WTO) and only a few issues remain to be ironed out, U.S. Treasury Secretary John Snow said on Saturday. [Reuters]
In their final communique, ministers warned of the effect of "high and volatile" energy prices on the world economy, though they said global growth was expected to grow in 2006. They also warned of the potential economic effects of a global bird flu pandemic and called for more financial help for affected countries.
"We are all concerned about the risks of rising energy prices and what they do to growth," U.S. Treasury Secretary John Snow said at a news conference after the meetings.
Russia _ which has seen its coffers swell from record-high oil prices and provides about a quarter of Europe's gas _ made much of its position as the world's second-biggest oil exporter after Saudi Arabia, touting new pipeline projects with international investment.
"Decentralization of production and supplies to global markets will help ... lower prices in the mid to long term," Russian Finance Minister Alexei Kudrin told reporters.
Russia is currently building a gas pipeline directly to Germany under the Baltic Sea, while a crude pipeline to Asian markets is awaiting approval from regulators. Untapped reserves in the Barents Sea and Eastern Siberia offer rich sources of new supply.
Kudrin also said that the government was working toward giving independent gas producers equal access to the state controlled pipeline network.