Japan, China continue talks on strained ties
(AFP)
Updated: 2006-02-12 14:26
Japan and China are conducing a high-level talks aimed at easing strained bilateral ties, with the end of Prime Minister Junichiro Koizumi's controversial tenure in sight.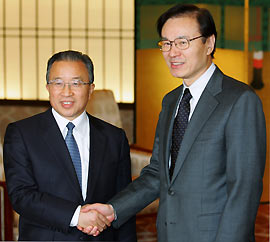 Chinese Deputy Foreign Minister Dai Bingguo (L) shakes hands with his Japanese counterpart Vice Foreign Minister Shotaro Yachi before their talks at the Iikura House in Tokyo February 10, 2006. Top diplomats from Japan and China met on Friday in an effort to maintain dialogue despite a chill in ties due to Japanese Prime Minister Junichiro Koizumi's visits to a war shrine seen by Beijing as a symbol of Tokyo's past militarism. [Reuters]

China's vice foreign minister Dai Bingguo and his Japanese counterpart Shotaro Yachi moved on to a hot springs resort north of Tokyo after holding a morning session of talks in the Japanese capital.

The two sides were believed to be discussing ways to improve their ties frayed by Koizumi's repeated visits to a Tokyo shrine which honours 2.5 million Japanese war dead, including 14 convicted World War II Class-A war criminals.

It was the first bilateral meeting at the vice minister level in four months since the Japanese premier made his annual pilgrimage to Yasukuni Shrine in October, sparking off fierce protests in China and South Korea.

The Japanese side was reportedly seeking a resumption of contacts between Koizumi and Chinese President Hu Jintao, as well as their foreign ministers. But Beijing is strongly opposed to any top-level bilateral exchanges because Koizumi, who has promised to step down in September after more than five years in office, refuses to stop his shrine visits.

In their talks late Friday, Dai and Yachi "confirmed the importance of Japan-China relations" and also discussed cultural exchanges among youths from the two countries, the Japanese foreign ministry said in a brief statement.

The pair were believed to be discussing oil and gas in a disputed area of the East China Sea.

In a meeting with a Japanese ruling coalition leader on Friday, Dai called Beijing's opposition to the shrine visits a "matter of principle" and said the situation should change.